NBC Insider Exclusive
Create a free profile to get unlimited access to exclusive show news, updates, and more!
Sign Up For Free to View
How Magnum P.I. Is Going to Be 'Sexier' This Season
The romance between Magnum and Higgins is just beginning! Catch all the juicy-ness on February 19.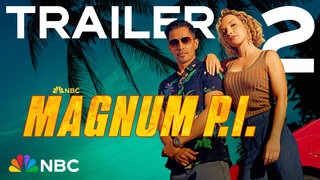 The new Magnum P.I. may be packed with epic crime-fighting, but there's also no shortage of juicy romance. And for the upcoming Season 5 (which will air on NBC), be sure to buckle up for even more on-screen chemistry between the main characters.
Thomas Magnum (Jay Hernandez) and Juliet Higgins (Perdita Weeks) have had some serious "will they, won't they" tension since the start Season 1. However, the charmer that is Magnum and the badass Higgins continued to see other people throughout the series.  Fortunately for us, by the end of Season 4, they eventually confessed their love for each other and shared their first kiss. (It was well worth the wait!)
And according to showrunner Eric Guggenheim, viewers should expect to see even more romance unfold between the two. "This season is sexier. It is more romantic, more emotional," he said on NBC's Television Critics Association press tour. 
By the looks of it, he appears to be correct. In a preview of the show that was posted on January 6, Magnum and Higgins are seen showering together and sharing a steamy kiss. Oooh la la!
"Don't worry, Season 5 will have plenty of action,😉" the official Magnum P.I. Instagram page captioned. "No one is ready," NBC's account commented.
At the TCAs, Hernandez opened up more about the Magnum-Higgins storyline. "[The] dynamic shifts a little bit when it's somebody that you're in relationship with," he said. 
But will the couple let their love get in the way of their pursuit for justice? Catch Season 5 to find out. 
How do I watch the Season 5 premiere of Magnum P.I. on NBC?
To see what Magnum and Higgins get into with each other next, be sure to watch the Season 5 premiere of Magnum P.I. on Sunday, February 19, 2023 at 9/8c on NBC with back-to-back episodes. After that, episodes will air on Sunday nights at 9/8c on NBC and also be available for streaming next day on Peacock.