NBC Insider Exclusive
Create a free profile to get unlimited access to exclusive show news, updates, and more!
Sign Up For Free to View
Here's Why Magnum and Higgins Finally Got Together After 5 Seasons on Magnum P.I.
"It is, I think, really one of the best decisions we've ever made on the show," Eric Guggenheim said.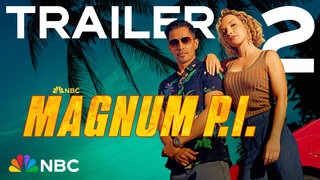 Now that Season 5 of Magnum P.I. is finally on NBC, fans finally got what they've been for: Thomas Magnum and Juliet Higgins have officially become a couple! (C'mon, did you see that steamy shower scene in the premiere?)
For 76 episodes, the tension between Magnum and Higgins was almost unbearable, an exploded in a passionate kiss at the end of Season 4. But why is everything happening now? Magnum P.I. Showrunner Eric Guggenheim explained to NBC Insider in an interview why, exactly, he and the writers finally decided to get the dynamic duo together. 
"I decided after talking with the other writers about it for a while," he said. "We had to pivot, and we had to go in some new directions or risk becoming stale. So we debated for a while. What are the pros and cons of getting that in the pace together. If we do get them together, what does that look like? What stories, will that give us? I asked the question, actually, at the very beginning of Season 4, really literally day one in the writers room. I said, 'Is this the year we get them together?' And that started a long conversation that went on for months."
The timing couldn't have been more perfect. "Once we committed to it, it allowed us to sort of chart the course for the rest of Season 4. Getting them together, at least getting them to kiss and declare their feelings for each other, we knew that was the endgame. So we got there, and then, to walk it back wouldn't have been satisfying," Guggenheim said. 
Viewers have a lot to look forward to with this newfound romance. "So heading into this season, we felt strongly that we had great stories," Guggenheim said. "Putting them together just gave us some great stories and great scenes that we wanted to explore. So we went forward with it. I have to say, it is, I think, really one of the best decisions we've ever made on the show. It's really taking us to some interesting places. It has added a whole new dimension to the show that has been incredibly satisfying. And we believe that the fans are really going to enjoy it." 
Watch Magnum P.I. on NBC Sundays at 9/8c and next day on Peacock.