NBC Insider Exclusive
Create a free profile to get unlimited access to exclusive show news, updates, and more!
Sign Up For Free to View
Will Thomas Magnum Change His Womanizing Ways on Magnum P.I.?
How will Higgins help Magnum evolve? Watch Magnum P.I. on NBC.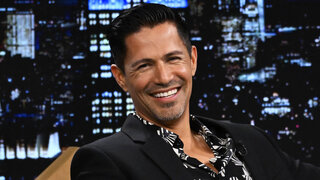 There's no denying that the charming Thomas Magnum has been quite popular with the ladies throughout the run of Magnum P.I. But since he finally got together with his case partner Juliet Higgins, will he leave his playboy days behind him for deep connection and commitment?
As we learned in the finale of Season 4, Magnum and Higgins confessed their requited feelings for each other and shared their first kiss.
The beginning of Season 5, Episode 1 shows the steamy shower session between Magnum and Higgins that we've all been waiting for. "This isn't a dream. This is really happening," Magnum assures the audience.
The always practical-minded Higgins then tells Magnum that they need to have a discussion about their relationship. She wants to keep their newly-kindled romance a secret from their friends to avoid outside influences (even though everyone has been totally shipping them forever). She also says that their stark contrasting personalities could cause some road bumps along the way.
"This? You and me? It's inherently risky," Higgins says.
"Yeah, but most things that are worth it are," Magnum responds. "I'm willing to give it a chance."
"Then so am I," Higgins replies. "Sneaking around might be kind of fun, in a naughty way," she adds later with a smirk.
Magnum and Higgins then tackle their first case together as an official couple. A woman's husband dies in a car accident, but she has strong suspicions that there was foul play involved. While searching the victim's car, they find an acrylic nail in the front seat. Magnum immediately recognizes the design, and concludes that the nail must have been made by a manicurist named Kimmy. And in a twist, he reveals that he used to date said manicurist, and that they need to contact her in order to track down more evidence.
"Doesn't bother you, does it?" he asks Higgins.
"No no no. I'm well aware that you've had your fair share of dalliances, it's obvious," Higgins teased, clearly trying to brush off her jealousy.
"Is it kind of weird that we know so much about each other's history?" Magnum asks.
"Kind of. But there isn't much about this situation that's normal," Higgins responds. "We're practically living together already. Didn't even have a proper courtship. You never had to swoon me, or romance me, and most guys would kill for that arrangement, by the way."
"Well I'm not most guys," Magnum said cheekily.
"Cause you're a romantic," Higgins said with a sigh. "I think I might've actually enjoyed being courted by you."
"I agree. My courtship game is strong," Magnum said flirtatiously. That's for sure!
In the next scene between Magnum and Higgins, Magnum calls the manicurist Kimmy regarding the case. Kimmy asks Magnum to buy her a drink in exchange for her help, prompting a dirty glare from Higgins. "Actually, I'm kind of seeing somebody right now," Magnum said.
Kimmy then asks if the situation was serious. "Well, it's a little early. But it could be, yes," Magnum responds while looking at Higgins.
When the case is over, Magnum requests that Higgins join him in the wine cellar. He surprises her with a romantic, candlelit dinner. "We did skip a few steps, now is the time to start making up for that," he says.
"That is very sweet," Higgins blushed.
"We have the entire state all to ourselves," Magnum said while pouring her a glass of wine. When Higgins points out how expensive the bottle is, Magnum says, "You're worth every penny."
But did Magnum mean it when he said things might get serious with Higgins? Watch Magnum P.I. on NBC Sundays at 9/8c and next day on Peacock to find out.