NBC Insider Exclusive
Create a free profile to get unlimited access to exclusive show news, updates, and more!
Sign Up For Free to View
Who Is Magnum's Mysterious Boss Robin Masters In Magnum P.I.?
Higgins' and Magnum's boss Robin Masters is an enigma.
Whether on NBC's Magnum P.I. or the original show, military veteran Thomas Magnum resides rent-free on a palatial Hawaiian estate called Robin's Nest at the behest of its owner, author Robin Masters, under the watchful eye of Masters' major domo Higgins (played by Perdita Weeks in the new show). But the elusive Masters is never seen (and, in the new series, never heard)—and Magnum's never met his mysterious benefactor.
So, who is Robin Masters? And will viewers of the fifth season, starting on February 19 on NBC, learn any more about him?
What We Know About Robin Masters In the Original Magnum P.I.
In the original series, which aired 1980-88, Robin Masters was heard but was never seen full-on. That version was voiced by legendary actor Orson Welles in six of the episodes in which Masters' voice was heard. (Welles died in 1985, while the series was still running.)
Though there was much speculation during the show's run  — including on the show by Thomas Magnum himself — that Jonathan Higgins was actually Masters, series creator Donald Bellisario has noted in an interview that it was never the intention for viewers to believe that Higgins was actually Masters.
"Robin Masters was never Higgins," Bellisario said. "People say that all the time but you'll see, if you look at it, you'll see Robin Masters' hand on a drink in a private jet talking on a phone to Higgins early on, like the first year or something like that."
One such tell comes in Season 1, Episode 17, called "J. Digger Doyle," in which Masters is ambushed in France for the tapes on which he had dictated his latest novel. He and Higgins swap places during an ambush at the estate, allowing Masters to escape with the tapes.
Still, by the series' end, Magnum suspected Higgins had actually been Masters all along, though that was never proven.
What We Know About Robin Masters In NBC's Magnum P.I.
So who is Robin Masters in the reboot, which began airing in 2018?
Novelist Robin Masters is the author of the White Knight series of novels. In the pilot episode, it's revealed that he had been a journalist embedded with Magnum's unit and had written a series of books based on his experiences. Those became New York Times bestsellers, allowing him to buy Robin's Nest and employ Magnum, played by Jay Hernandez, as a consultant.
But, neither Magnum or Higgins sees their mysterious employer—though he seemingly helped Higgins with an immigration problem in prior seasons—and we still don't see him or hear his voice on the series.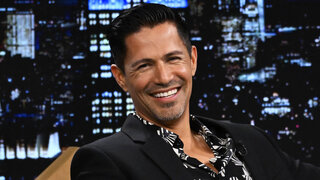 Watch Magnum P.I. on NBC Sundays at 9/8c and next day on Peacock.