NBC Insider Exclusive
Create a free profile to get unlimited access to exclusive show news, updates, and more!
Sign Up For Free to View
Where Is Magnum P.I. Filmed?
Read all about the beautiful scenery. Watch Magnum P.I. on NBC starting February 19.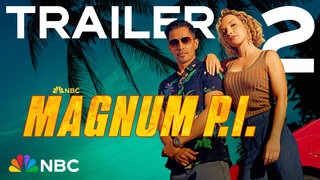 Magnum P.I.'s sleuths live and work in the beautiful state of Hawaii. Private Investigator Thomas Magnum resides in the Robin's Nest Estate, while his companions Juliet Higgins, Rick Wright, T.C. Calvin, and Gordon Kasumoto help him tackle cases on the island. While the cases are epic and hard-hitting, the setting makes for some amazing imagery during episodes as well. And now that the fifth season is going to be on NBC, the filming is as vivid as ever. Read on for more details about where Magnum P.I. is filmed. 
Filming locations take place in Honolulu, Waimanolo, Kaneohe, Aiea, Waialua, Kapolei, and Kailua, Hawaii. 
"We used every inch of that Island," Eric Guggenheim, showrunner for Magnum P.I., told NBC Insider. "No matter where you are, it's beautiful. It's so picturesque. There are no bad angles on that island. So we use all of it."
The locations actually affect the actor's creative process. "We try to be outside as much as possible," he said. "Because when you shoot in such a beautiful place, you want to be outdoors. Obviously, we have our stages, but we try to be on location more than we try to be indoors. That certainly affects our production. Oahu's is very interesting because you have Waikiki in Honolulu, which are very much these kind of urban centers. But then you go up on the north shore, and it's just beautiful beaches. Inland, there's jungle and waterfalls and just such incredible beauty. We try and bury our stories as much as possible so that we can explore the different parts of the island. So it certainly does play into decisions that we make as far as storytelling goes."
"I really wanted it to be something that showed off just how beautiful the island is. Hawaii has some of the most beautiful beaches in the entire world," Guggeneim added.
As for what to expect when it comes to romance for Season 5, Guggenheim, Jay Hernandez and Perdita Weeks spoke to TV Guide about the dynamic of the new relationship between Magnum and Higgins. 
"This is probably our most emotional season." Guggenheim told the outlet, according to TV Insider. "The show is a little sexier."
"Higgins is more cerebral and wants to think it through," Hernandez said of the differences between his character and Higgins's. 
"Magnum is more heart-led. He's the more natural romantic. Higgins is like a steel trap," Weeks added.
But the relationship won't be completely smooth sailing this season. "We still bicker constantly," said Hernandez.
"All their friends are somewhat invested," Weeks said about the relationship. "There is a large amount of pressure to make [this relationship] work."
And at NBC's Television Critics Association panel, the three talked even more in depth about the emotional implications regarding the romance between Magnum and Higgins. 
"The rest of the season is showing where that goes, with two people who are meant for each other, but then having to navigate working together and being in dangerous situations," Weeks said, according to TV Guide.  "[Higgins is] somewhat highly strung, [and] I thought she might be more jealous than she is. They've been very generous with her, seeing her interact with other people. It's actually going quite well thus far, so we'll see. It's definitely fun."

Watch Magnum P.I. on NBC Sundays starting February 19 at 9/8c and next day on Peacock.