NBC Insider Exclusive
Create a free profile to get unlimited access to exclusive show news, updates, and more!
Sign Up For Free to View
Magnum Saved Higgins' Life in the Latest Magnum P.I.—Here's What Happened
Jay Hernandez actually directed this episode, and it was a nail-biter.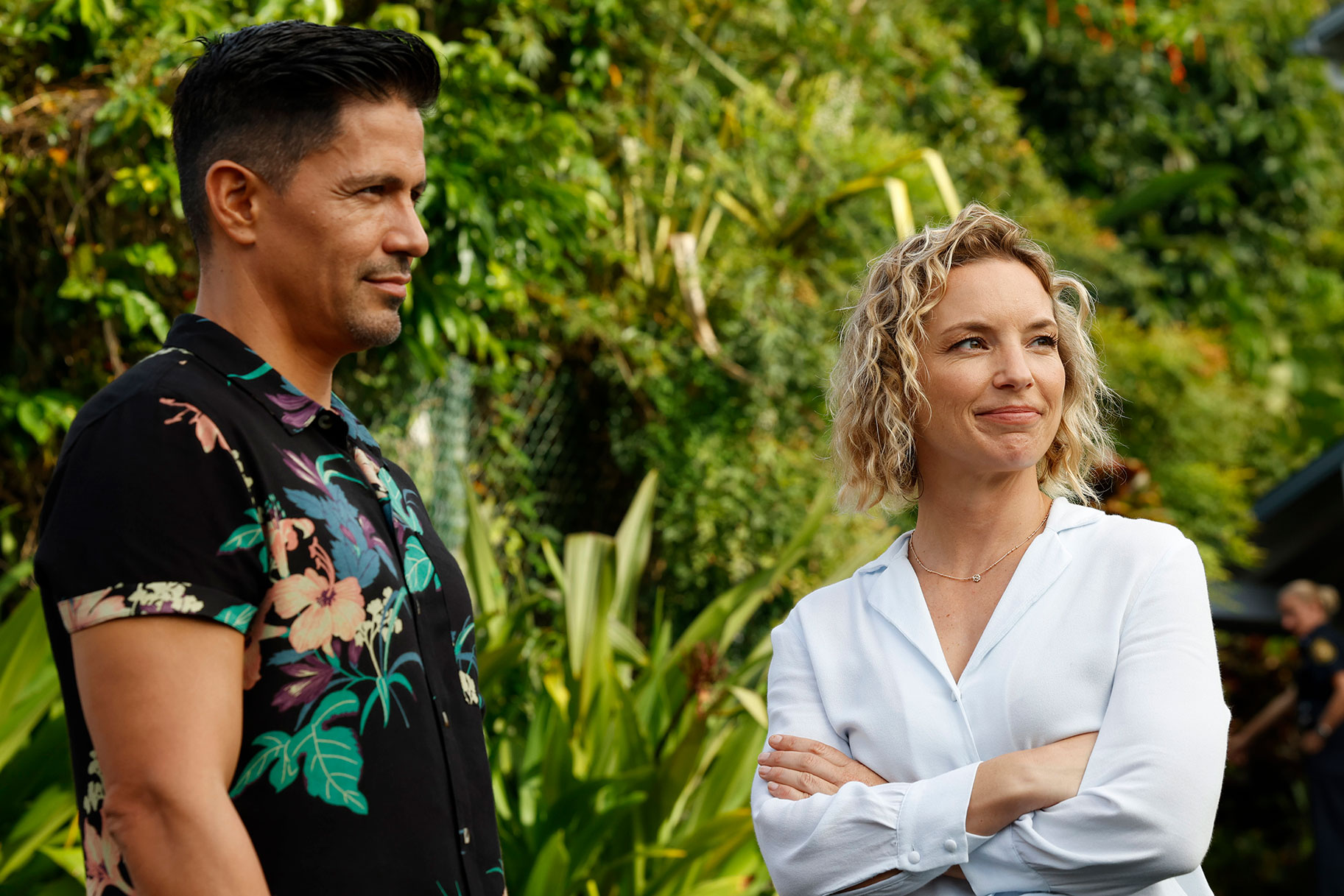 Magnum P.I. has always been an intense show, but this week's episode had an especially high-stakes scenario that will leave you on the edge of your seat. It dives into the deep psychological state of Juliet Higgins (Perdita Weeks) and how her dangerous line work affects her now that she's in a committed relationship with Thomas Magnum (Jay Hernandez). Fortunately, this episode also showed that the two always have each other's back. 
In Season 5, Episode 9, which was directed by Jay Hernandez, Higgins poses as a psychologist at a mental hospital to go undercover to investigate the death of one of the facility's employees. Through her sleuthing, she uncovers the truth behind a shady drug ring happening at the institution. Since she knows too much, one of the employees attempts to keep her silent by drugging her with ketamine. They start to slowly inject her with a fatal amount of the drug while Higgins is unable to move.
Luckily, Magnum's intuition told him that something was wrong and that Higgins was in trouble. He rushes to the facility, runs past security guards, and barriers and breaks into the room, stopping the overdose just in time before the drugs reach Higgins' system. 
In an interview with NBC Insider, Jay Hernandez opened up about his creative and technical process while directing the gripping episode. 
"You have to balance logistics, your creative vision for the show with your time frame, and how many days you have to shoot an episode. So there's all these, like, puzzles basically that you have to solve," he said. "And so for this episode in particular, we had a location that was not visually stunning by any means; it was kind of boring, to be honest, so I had to find ways of making it look interesting. So I set up some shots and did some things and experimented a little bit, and the network is really happy with it." 
"I'm really excited for the fans to see it, and it's kind of cool, because the cast and the crew put that extra effort when they know one of the cast members is directing. For people watching, there's a little something extra. It's a little more interesting, because they want to see what the vision is, and everybody is such huge fans of the this character and what I've been doing on the show for so many years, so they really want to support it," he added. 
Watch Magnum P.I. on NBC Sundays at 9/8c and next day on  Peacock.