NBC Insider Exclusive
Create a free profile to get unlimited access to exclusive show news, updates, and more!
Sign Up For Free to View
"It's Like Being on Set!" Jay Hernandez Had the Sweetest Surprise for Magnum P.I. Fans
"You were a big part of making Magnum P.I. come back," Jay Hernandez told the show's fans.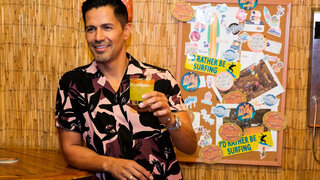 Detective shows are all about throwing twists into the plot. Magnum P.I. fans who turned out for a special event to celebrate the show's NBC launch got the coolest curve ever. 
Series star Jay Hernandez — Thomas Magnum himself — popped by on February 17 to say aloha and to express gratitude for passionate viewers of the reboot, which is now in Season 5. Some fans signed petitions and even paid for a billboard in Times Square to revive the show.
"Who's ready for a drink?" the actor asked the crowd at Broken Shaker, a bar in New York City. The club was decked out like La Mariana, the hotspot on the show. Magnum P.I. cups, sunset photo ops, and a tropical house added to the island vibe.
"It's like being on set, right?" Hernandez said. "Thank you, guys. I know a lot of you showed up because you're fans of the show. You guys were a big part of making Magnum P.I. come back for a fifth season and [for] finding a home at NBC. So, cheers to you. I hope you have a good night."
Good? Make that great, according to revelers like Linda Ishkanian. She's loved everything about the 2018 reboot and even signed a petition to save the series.
"We were so happy that it came back and got picked up by NBC," Ishkanian told NBC Insider digital correspondent Stephanie Gomulka.
Seeing Hernandez in the flesh? "Icing on the cake," Ishkanian said.
Joe Marcianti has been a Thomas Magnum fan since Tom Selleck played the role in 1980. He was stoked that the party gave him the chance to meet Hernandez and score his autograph. 
"I love the whole show [and] that's it's filmed in Hawaii," he told NBC Insider, adding that the stories and cast are "great."
Marcianti also appreciates the fact that the new version of Magnum P.I. gives the cast room to put their own marks on iconic characters: "Jay Hernandez made it his own," he said.
RELATED: From Tom Selleck to Robert Pine–Where the Original Cast of Magnum P.I. Is Today
Magnum P.I. enthusiast Ray Mathew arrived dressed in an Aloha shirt that could have come out of you-know-who's closet. He said the episode locations play on rewind when he and his family visit Hawaii. 
"We love the action, we love the car, we love Hawaii, we love the scenes," he said. "We just relive memories when we go back to the island. Overall, it's an A-plus."
Watch Magnum P.I. on NBC Sundays at 9/8c and next day on Peacock.