NBC Insider Exclusive
Create a free profile to get unlimited access to exclusive show news, updates, and more!
Sign Up For Free to View
How Magnum and Higgins' Romance Is Changing Their Working Relationship on Magnum P.I.
"I just really don't want anything happening to you," Higgins told Magnum in the latest episode. Watch Magnum P.I. on NBC.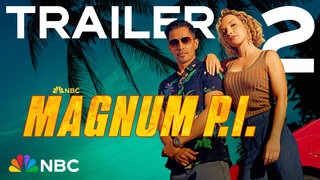 On Magnum P.I., Thomas Magnum (Jay Hernandez) and Juliet Higgins (Perdita Weeks) have dealt with some ultra-dangerous cases, narrowly avoiding death on multiple occasions. But now that the two private Investigators are finally partners in both their work and their love lives, the stakes are even higher. And in Season 5, Episode 4 (which aired March 5), we get an intimate look at how much Magnum and Higgins truly care for each other.
In this episode, Magnum and Higgins were hired to investigate a missing employee at a cooperate clean energy business. Before meeting with their client, the always-practical and cautious Higgins revealed her desire to protect Magnum.
"Maybe you should sit this one out until you can get a proper threat assessment," she suggested.
Magnum, who is known to be more heart-led in his approach, did not share her sense of urgency. "I appreciate the concern, but we are already here, and this is a two-person gig, anyway," he said.
Later, Higgins expressed how she would be affected if anything were to jeopardize Magnum's safety.  
"Look, I know you can take care of yourself; I just really don't want anything happening to you. Especially now," she urged.
"I don't want anything to happen to me, either," Magnum responded. "I'll be careful. I promise." 
Then, as Magnum began to walk away, Higgins pulled him in for a long, passionate kiss.
When the case was over, they sat down for a dinner together with some friends. "By the way, I just wanted to say I'm sorry for worrying over you so much," Higgins leaned over and whispered in Magnum's ear. "It's just, if someone is after you, I'd very much like to see them coming."
"Look, whoever they are, if they come, we'll deal with them together," Magnum said in a comforting tone.  
In an interview with NBC Insider, Jay Hernandez gave further insight on how Magnum and Higgins change the way they navigate their cases now that they are emotionally involved with each other in Season 5.
"I'm just trying to make little tweaks to massage how those moments play out, because it is something different," he said. "Say we're about to get into a gunfight; do I want my woman to go in and potentially take a bullet? It's, like, no, I think Magnum's is a chivalrous guy; he's going to want to go first, right? So those kind of things we gotta talk through and figure out the best way forward."
Watch Magnum P.I. on NBC Sundays at 9/8c and next day on Peacock.