NBC Insider Exclusive
Create a free profile to get unlimited access to exclusive show news, updates, and more!
Sign Up For Free to View
This Is the Secret to Magnum and Higgins' Explosive Chemistry on Magnum P.I.
"There was a spark between these two characters," Eric Guggenheim said. Watch Magnum P.I. on NBC.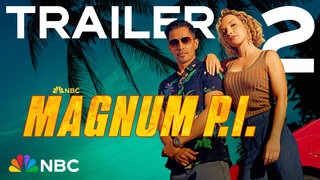 Now that Thomas Magnum and Juliet Higgins are officially together in Magnum P.I. Season 5 on NBC, we can't get enough of their passionate scenes together. But what exactly makes the relationship between Magnum and Higgins so entertaining to watch? Showrunner Eric Guggenheim weighed in.
"We never get tired of writing those banter-y scenes together, where they're kind of poking at each other a little bit. That kind of banter, that back and forth, is just a lot of fun," Guggenheim said in an interview with NBC Insider.
He added, "What's fun is that these are two very different people. They have similar experiences and similar trauma in their past, and that connects them, but their approach as investigators, they have different approaches. Their personalities are a little different. Magnum is romantic and more of a risktaker and Higgins is very guarded. If you had two characters who are very similar, it would make for a very boring relationship and some very boring scenes. But because these characters are so different that just makes for fantastic chemistry." 
The talents of Jay Hernandez (Magnum) and Perdita Weeks (Higgins) are what truly ties everything together on Magnum P.I. "And then there's the thing that you can't always count on. But we've really lucked out, where two actors just have amazing chemistry. When you get that, you're incredibly fortunate. It doesn't always work out that way on shows, but we're lucky that from the very first episode, you saw that there was a spark between these two characters. And that the two actors just had some undeniable chemistry," Guggenheim added.
Fans should buckle up for Season 5, as the heat is just getting started between Magnum and Higgins. "Putting them together just gave us some great stories and great scenes that we wanted to explore. So we went forward with it. I have to say, it is, I think, really one of the best decisions we've ever made on the show. It's really taking us to some interesting places. It has added a whole new dimension to the show that has been incredibly satisfying. And we believe that the fans are really going to enjoy it," Guggenheim said.
To see what unfolds between Magnum and Higgins, watch Magnum P.I. on NBC Sundays at 9/8c and next day on Peacock.