NBC Insider Exclusive
Create a free profile to get unlimited access to exclusive show news, updates, and more!
Sign Up For Free to View
Where to Watch NBC's 90th Birthday Special for the Legendary Carol Burnett
Carol Burnett: 90 Years of Laughter + Love, premiered on NBC in April 26 and showcased her storied career.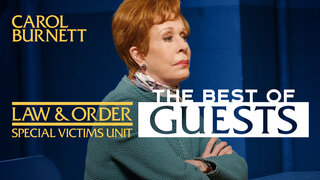 National treasure and legendary entertainer Carol Burnett turned 90 in April 2023 — and NBC honored this occasion with a televised special, titled Carol Burnett: 90 Years of Laughter + Love. 
"I am so excited NBC decided to throw me a birthday party and invited all of my closest friends," Burnett said in a statement. "I cannot wait to look back at so many wonderful moments throughout my career, I feel so lucky to share this night with everyone."
How to Watch

Carol Burnett: 90 Years of Laughter + Love
You can stream Carol Burnett: 90 Years of Laughter + Love on Peacock. The special will repeat air on Wednesday, August 23 at 9/8c on NBC. 
When and where was Carol Burnett Born?
Carol Burnett was born in San Antonio, Texas on April 26, 1933.
A look at Carol Burnett's road to stardom
The special will also remind viewers of Burnett's path to superstardom, showcasing some of the most beloved moments from her career on Broadway, television and movies—including her breakout role in Broadway's Once Upon A Mattress, her early appearances on The Garry Moore Show and her roles in the films The Four Seasons, A Wedding, Pete 'n' Tillie, and Annie.
The show that made Carol Burnett a household name
The special will also honor The Carol Burnett Show, which aired for 11 seasons. It's widely regarded as one of the greatest TV shows ever and was appointment television at the time. Indelible sketches, like the Gone With the Wind satire, are still bringing smiles and belly laughs to a whole new generation of fans 40 years later.
Vicki Lawrence, her co-star on the variety show, and legendary costume designer Bob Mackie, who created most of the costumes, will be on hand for that segment.
The Carol Burnett Show will be given the Heritage Award by the Television Critics Association during its annual awards show in 2023, which  honors the best TV of the year and the best in the business. The Heritage Award is one of the most prestigious honors from the TCAs, given to one long-standing program that has culturally and socially impacted society.