NBC Insider Exclusive
Create a free profile to get unlimited access to exclusive show news, updates, and more!
Sign Up For Free to View
Kristen Wiig and Maya Rudolph's Best Moments Together on SNL
You'll never guess who first introduced the future Bridesmaids stars at a baby shower (hint: She's an SNL Five-Timer). 
Kristen Wiig and Maya Rudolph's onscreen chemistry is a joy to behold. The comedians played best friends in the 2011 comedy classic Bridesmaids, for one. At the 2020 Academy Awards, they turned their award presentation segment into one of the night's funniest moments. But before these creative collaborations and more, Wiig and Rudolph shared hysterical scenes on Saturday Night Live during their three-season overlap as cast members and subsequent visits to the show.
While you might assume that Wiig and Rudolph met at SNL, they actually first met in Los Angeles years prior. As Rudolph told Ellen DeGeneres in 2019, the two were introduced at a baby shower for a mutual friend they knew through L.A. comedy school The Groundlings (the shower's host was fellow Groundling, Bridesmaids co-star, and SNL Five-Timer's Club member Melissa McCarthy). Yet Wiig and Rudolph never worked together until Saturday Night Live.
When Wiig joined SNL in 2005, "I was on maternity leave, and I was actually watching the show," Rudolph told DeGeneres. "And I remember watching and I thought, 'I want to go back. I want play with her!,'" she continued. "It looked so fun."
Revisit five of Maya Rudolph and Kristen Wiig's best SNL moments—including their favorite sketch together—below.
RELATED: SNL's Most Memorable Cold Opens
When they were Super Showcase spokesmodels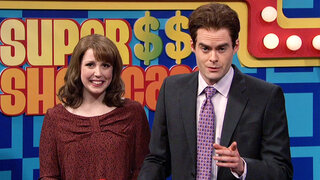 Rudolph has cited the "Super Showcase" as both her and Wiig's favorite SNL sketch they've ever been in together. "[Kristen] couldn't keep it together the minute she read it out loud," Rudolph told Ellen DeGeneres.
In it, Wiig and Rudolph played oddly-accented spokesmodels who help Bill Hader's game show host show a contestant (Vanessa Bayer) the prizes she didn't win. They clearly had the time of their lives making each other laugh, and Wiig winds up driving a slightly-out-of-control golf cart around the set.
That time they reinvented "My Favorite Things"
When Kristen Wiig returned to host SNL for a fourth time during the December 18, 2020 holiday episode, there was no denying things were a little less festive than usual that year. Wiig's opening monologue found absurd joy in the chaos of 2020, featuring a hilarious rework of The Sound of Music's "My Favorite Things."
With lyrics like, "When my dog sits on the ceiling 'cause he's being bad / I simply remember my favorite things and then I will kiss your dad," the song brought Wiig and Rudolph together for a glorious duet moment before they were joined by Kate McKinnon.
When they feuded, Real Housewives-style
Rudolph returned for The Women of SNL, an NBC prime time special, in 2010. She was joined by Wiig and fellow former cast members Tina Fey, Amy Poehler, Molly Shannon, Cheri Oteri, Laraine Newman, Julie Louis-Dreyfus, Ana Gasteyer, Jan Hooks, and Rachel Dratch for a very Bravo cold open hosted by Andy Cohen himself.
Wiig and Rudolph's head-on "confrontation" was an absolute highlight of the sketch (and "she choked my dog till she passed out, y'all" sounds just wild enough to be an actual Housewives allegation).
RELATED: SNL Season 48's Most Popular Pretaped Sketch Is Up for Two Emmys
When they were in a "New Age Band"
Wiig and Rudolph are hysterical as irate bongo and pan flute musicians who struggle to make blissed-out music together in this sketch from Wiig's second season. (Raise your hand if you also wish that Rainn Wilson, Fred Armisen, Maya Rudolph, Kristen Wiig, and Kenan Thompson were really in a band together.)
Santa's My Boyfriend
Another holiday episode, another occasion for Rudolph and Wiig to make beautiful music together—joined by Amy Poehler for an…um…romantic? song about Santa.