NBC Insider Exclusive
Create a free profile to get unlimited access to exclusive show news, updates, and more!
Sign Up For Free to View
Justin Timberlake's Best Late Night Moments
The pop star's onscreen chemistry with Tonight Show Host Jimmy Fallon has had us — and these two friends — laughing for over 20 years.
Justin Timberlake and Jimmy Fallon's longtime friendship has been a creatively fruitful one. Over the years the two have teamed up for dozens of sketches, interviews, and musical performances on shows including Saturday Night Live, Late Night with Jimmy Fallon and, of course, The Tonight Show Starring Jimmy Fallon. 
Timberlake and Fallon first met not on the SNL set, as some might assume, but at the 2002 MTV Video Music Awards, which Fallon was hosting. 
"The funny thing about our friendship even when it first started — I just remember that nothing was that serious," Timberlake said to Fallon during a 2020 Tonight Show interview. Soon after meeting, he later added, "We started doing bits back and forth, you know, and that's all we do now."
RELATED: Every Host of The Tonight Show Through the Years
While it's impossible to choose a favorite moment from their many hilarious appearances together on The Tonight Show and Late Night with Jimmy Fallon, we've rounded up 10 standouts that perfectly capture their comedic chemistry.  
Check out some of Justin Timberlake and Jimmy Fallon's best sketches and interview moments, below.
The Camp Winnipesaukee Boys sing "Ironic"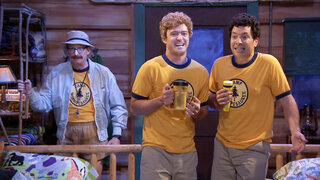 The braces-wearing, curly-wigged young Jimmy and Justin have sang so many classic hits while bunking down at Camp Winnipesaukee, from Toto's "Africa" to 4 Non Blonde's "What's Up"–including an adorably awkward take on "Ironic" by Alanis Morissette. 
"SexyBack" gets a barbershop version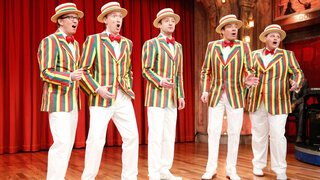 One of Timberlake's biggest hits got the old-timey barbershop quartet treatment from the Jimmy Fallon's Ragtime Gals on Late Night in 2013, with Timberlake donning the red bowtie to sing lead. The harmonious results are as catchy as the original. 
Jimmy Fallon doesn't love Justin Timberlake's Jimmy Fallon impression
No one knows your quirky mannerisms like the people closest to you, and Timberlake and Fallon's friendship is no exception. 
The silent interview
Timberlake relied on meaningful facial expressions, gestures, and his natural rapport with Fallon to have a "talk" while on vocal rest. 
Timberlake and Fallon can't have a "Songversation" without cracking up
The original sung-conversation sketch is hilarious—and so is this blooper reel, which reveals the many tries it took to keep a straight face.
Steve Carell arm-handles Fallon
When The Office alum Steve Carell joined Timberlake and Fallon for an installment of "Real People, Fake Arms," he portrayed a tailor who needs to call on a fellow mannequin-armed "Suit & Tie" expert (that's Timberlake, in case you didn't get it). 
"Looks" with Will Ferrell
Timberlake and Ferrell serve some serious eye-acting in this sketch, which feels like the (wordless) indie bromance we never knew we needed. 
Three Michael McDonalds sing "Row, Row, Row, Your Boat"
That time Timberlake and Fallon served up their best impressions of the Doobie Brothers singer, joined by McDonald himself on Late Night in 2013.
RELATED: Millie Bobby Brown and Noah Schnapp Are Bestie Goals Playing This Tonight Show Game
Jessica Biel and Fallon take the "Best Friends Challenge"
Who knows Timberlake better: His BFF Fallon, or his wife, Jessica Biel?
Hashtag
This Late Night sketch remains a riot, while also serving as a time capsule that captures the era circa 2013 when we all went around saying hashtags out loud.