NBC Insider Exclusive
Create a free profile to get unlimited access to exclusive show news, updates, and more!
Sign Up For Free to View
Millie Bobby Brown and Noah Schnapp Are Bestie Goals Playing This Tonight Show Game
Season 10 of The Tonight Show Starring Jimmy Fallon has racked up a massive 5 billion views on social media. 
It's no secret that Jimmy Fallon is a huge fan of games: He's Host of Emmy-nominated musical game show That's My Jam and a passionate competitor on Password (Host Keke Palmer was also recently nominated for an Emmy!). And for 10 seasons, the wildly creative games featured on The Tonight Show Starring Jimmy Fallon have brought out celebrities' silly (and competitive) sides, with hilarious results.
The most-watched game of The Tonight Show Season 10 found Stranger Things co-stars and real-life best friends Millie Bobby Brown and Noah Schnapp playing a messy round of "True Confessions." Do we even need to explain why Keanu Reeves buried in adorable puppies, Suga's "Imposter Challenge," and Jenna Ortega's Wednesday Addams-like "Box of Lies" pokerface were also major fan favorites?
RELATED: 10 Times Stars Got Super-Competitive Playing Tonight Show Games
Since September 2022, Season 10 of The Tonight Show Starring Jimmy Fallon has earned over 5 billion video views across TikTok, Instagram, YouTube, Facebook, and Twitter. The program is currently the most-viewed and most-followed late-night show on air, proving that fans of the show love to watch, share, and rewatch the program's viral moments.
Speaking of TikTok, fans are checking in with Jimmy Fallon on the video platform, too. On July 25, the Host thanked his followers with this video after waking up to 10 million follows:
Check out the five Tonight Show Season 10 games viewers can't stop watching, below. 
"Pup Quiz" with Keanu Reeves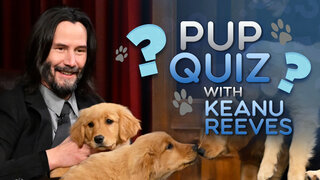 Reeves' character John Wick has a famous soft spot for dogs — and the actor seemed to enjoy snuggling with a puddle of baby Golden retrievers himself. (Cutest question ever: "Do the puppies know each other?")
"Imposter Challenge" with Suga
When the BTS member visited The Tonight Show for its May 1 episode, he proved a worthy competitor (and brave taste-tester).
"Box of Lies" with Jenna Ortega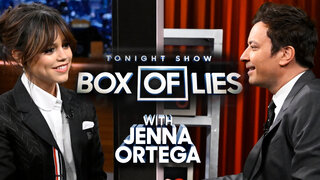 In the Wednesday star's defense, we wouldn't know how to describe that insane Cousin Itt diorama, either. 
"What's Behind Me?" with Kate Hudson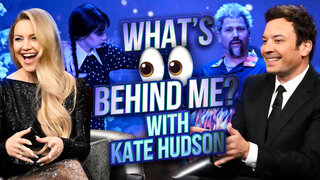 Hudson's freewheeling sense of humor couldn't be a better match for this special Christmas edition of "What's Behind Me?"
Related: The Best "Christmas in July" Moments from The Tonight Show
"True Confessions" with Millie Bobby Brown and Noah Schapp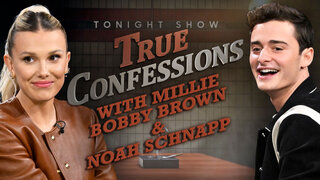 The most-watched Tonight Show game of Season 10 nabbed over 25 million views, and it's easy to see why. As Fallon notes, Schnapp "came in hot" — as in, he spills coffee all over the table.
Things only get funnier from there as Brown and Schnapp team up best-friends-style to bust Fallon in a lie, but Schnapp's acting skills prove victorious in the end.