NBC Insider Exclusive
Create a free profile to get unlimited access to exclusive show news, updates, and more!
Sign Up For Free to View
Strays Director Barks Up the Right Tree, Hits Comedic Gold with "Dream" Actors
Strays director Josh Greenbaum talks the chemistry between Jamie Foxx and Will Ferrell in their first movie together.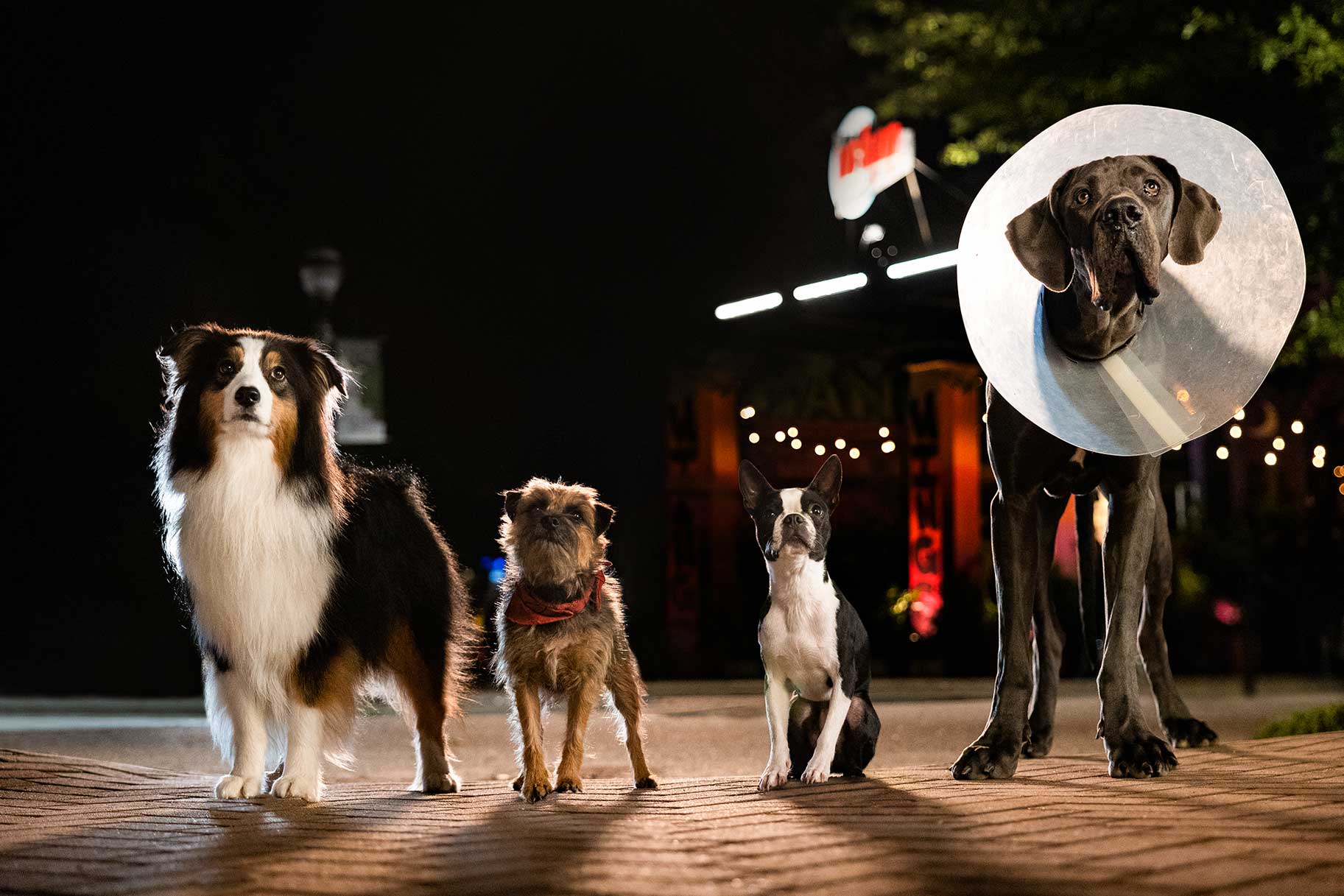 Director Josh Greenbaum cast some big dawgs for Strays. The live-action canine comedy introduces us to the friendship of Reggie (Will Ferrell) and Bug (Jamie Foxx) as they exact revenge on Reggie's lousy human (Will Forte). Isla Fisher, Randall Park, and Josh Gad round out the all-star cast of this R-rated talking dog flick. What was the secret to finding such a fetching group? According to the award-winning director (Becoming Bond and Bob and Star Go to Vista Del Mar), it was a combination of careful research and risk-taking.
RELATED: "Now I Have a Will Ferrell Running Around My Home": How to Direct Dogs with Strays' Josh Greenbaum
The adventure begins with Reggie, a naïve, overly trusting terrier who is in stubborn denial about his loser human, who mistreats him and dumps him in an alleyway three hours away from home. Reggie soon meets street-talking wise guy Bug (Jamie Foxx), a Boston Terrier who helps him realize how awful his owner is. Gathering up his pack — Maggie (an Australian Shepard overshadowed by a new puppy at home played by Isla Fisher) and Hunter (an anxious Great Dane who failed police training played by Randall Park) — the group helps Reggie sniff down his toxic "ex" in order to (brace for it) bite off his penis.
Strays is unapologetically raunchy and unrestrained, chock full of gnome-humping scenes and a harrowing romp in a magic mushroom patch. But in Greenbaum's hands, the characters — both dog and human – bring an emotional depth to certain moments. The movie surprisingly pulls on the heartstrings with messages about friendship, abandonment, and self-esteem — no small feat for voice actors (or dogs, for that matter).
Finding actors to walk that fine line between sweetness and, well, hardcore cussing (and chomping) was a challenge. "I certainly had Jamie Foxx and Will Ferrell in mind when we started. You make your wish list, and you dream," Greenbaum told NBC Insider.
Being a fan of Saturday Night Live helped narrow down the scope. Watching the "two Will F.'s" in hundreds of memorable decades-old episodes gave Greenbaum some helpful insight. "There's something about going through the SNL school if you want to call it that. There's a shorthand I learned with their characters, and I learned what they do well. When you see them in hundreds of scenes, you see what they excel at," he explained.
"I knew if I needed a funny, naïve character, Will Ferrell is the best. He's one of the funniest actors to swear, and he does the funniest improv," Greenbaum said. For Forte, the challenge was playing an abusive dog owner that didn't completely alienate the audience.
"Will Forte had the hardest character in the movie. There's no one better who can thread that needle. It's hard to play the villain," he added.
Though he was in talks with actors on his "dream" list, nothing was guaranteed when Greenbaum decided to begin filming, not the usual way of approaching filmmaking. "We had the dogs cast even before the voices. We were shooting for about a month before the actors came in," he said. Luckily, Foxx and Ferrell "both totally got the script and understood it, and just went for it."
In another unusual move, Greenbaum gathered the actors together in the studio to foster improv. "In the voice-over tradition, that doesn't happen," he said. "There was a lot of improv. Once you cast actors like these, you're gonna let them run. They're the best in the business, comedic juggernauts," he says. His efforts proved successful; the chemistry between the dogs was eerily intense on-screen, and the dialog flowed seamlessly.
In fact, Foxx and Ferrell were in the room together during every session, and they spontaneously played off each other, sometimes riffing on footage of the dogs' actual (not trained) reactions. In one scene in the woods, a leaf scared one of the dogs that played Bug, and when Jamie Foxx saw the footage, he ran with it, shouting, "F--- you, leaf!" The actors brought unexpected but appreciated personality to their canine characters, and the result is somehow charmingly vulgar and relatable.
"It was a living, breathing script," Greenbaum said.
Strays hits theaters on Aug. 18.