NBC Insider Exclusive
Create a free profile to get unlimited access to exclusive show news, updates, and more!
Sign Up For Free to View
"Now I Have a Will Ferrell Running Around My Home": How to Direct Dogs with Strays' Josh Greenbaum
Director Josh Greenbaum opens up about working with animal actors in his new raunchy canine comedy.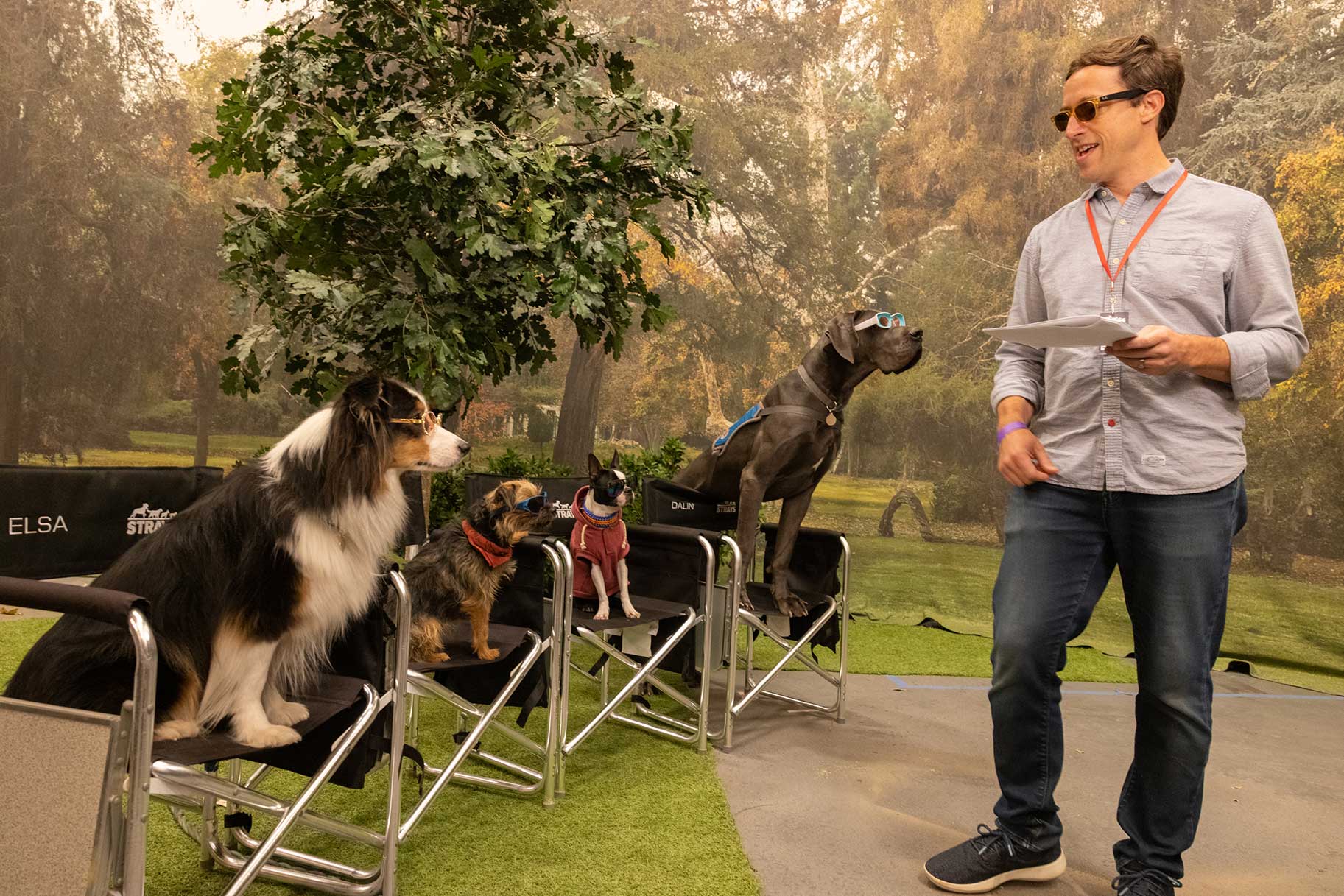 Strays brings a new twist to the grand tradition of talking animal movies. The raunchy live-action comedy subverts the "cutesy" genre, kicking things up a notch with some serious realism. The question is: How did the director get dogs to do those R-rated things? Josh Greenbaum shared with NBC Insider what it was like to "pull off the magic trick" of working with animal actors and their trainers.
RELATED: Vanessa Bayer Wrote an SNL Sketch for Will Ferrell That Never Made the Show
Rule Number One: Be a pet lover. "I love dogs; I grew up with dogs. It was great. I adopted one of the dogs from the film, a little Reggie. Now I have a little Will Ferrell running around my home," he said.
Strays takes audiences inside the world of a pack of cussing canines led by Bug (Jamie Foxx) and Reggie (Will Ferrell) as they attempt to reunite with Reggie's bong-smoking loser owner (played by Will Forte). Sex with lawn gnomes, synchronized pooping, and hallucinating on mushrooms are just a few outrageous moments in store. Along the way, we even meet an earnest Labrador chiming in with deep thoughts on his owner; the "narrator dog" parody voiced by Josh Gad (from A Dog's Purpose) gets big laughs.
In between the jokes, the dogs experience some tender, emotional moments that draw the audience in, and this is where the actors — both human and furry — shine. While animal movies are a stereotypical no-go for many directors (not to mention extremely complex to pull off), Greenbaum jumped in head first.
"It was one of those things I knew would be difficult, and I worked hard to get ahead of it. I approached the dogs the way I would approach my actors, and I did that with my animal trainers, too, and spent a lot of time with them. I actually worked with the animal trainers first before getting the voice actors. It's difficult to have four dogs in a scene, and they're all doing something different. It feels like pulling off a magic trick," he said.
While there's a fair share of bodily function humor, certain scenes inspire empathy and a better understanding of a dog's perspective. After wondering if anyone saw them steal sausages from a carnival, fireworks suddenly go off, and Hunter (Randall Park) screams, "God saw! God sees everything!" The pack scrambles to safety underneath a chain-link fence in a pulse-pounding scene that drives home the high anxiety loud noises can cause real-life dogs.
"I liked the idea that it might feel like a war scene [to the dogs], that they're in the middle of explosions," Greenbaum said.
Astonishingly, there's almost no CG in the entire movie. It was "incredible how much we were able to convey emotionally via the dogs without leaning on CG," he explained. What surprised Greenbaum the most "was just the level of performance the trainers were able to pull out of the dogs."
With both leads played by terriers, choosing the breed was also an important factor. The Border Terrier breed (played by Will Ferrell) is good-natured, high-energy, and perhaps most importantly, very easily trained. "For Reggie, we wanted him to look like a mutt. You have multiple dogs for each character, and you're training so many different tricks. One dog may be good at rolling over; one dog loves to run," he said. "For Bug [a Boston Terrier], we wanted to find a type of dog that could play a streetwise stray but, in fact, had a history, a sweet backstory. We wanted to thread that needle of tough and sweet."
Strays hits theaters on Aug. 18.