NBC Insider Exclusive
Create a free profile to get unlimited access to exclusive show news, updates, and more!
Sign Up For Free to View
These Are the Most-Watched Sketches of Saturday Night Live Season 48
Two Hosts starred in the most-viewed sketches from the show's most recent season. Did your favorite make the list?
Season 48 of Saturday Night Live gave us tons of hilarious sketches, welcomed incredible Hosts, and introduced the world to four mega-talented new cast members in Marcello Hernández, Michael Longfellow, Molly Kearney, and Devon Walker. The fruits of the 2022-2023 SNL season earned the show ten Emmy nominations, including Outstanding Scripted Variety Series and Outstanding Writing For A Variety Series.
Everyone has their favorite comedic moments from each episode—but strictly in terms of numbers, these five most-watched sketches from SNL Season 48 earned millions of views on the show's YouTube page alone.
Check out which sketches were top fan favorites below, according to how many watches (and multiple rewatches) they received. 
What is the most popular sketch from SNL Season 48?
Waking Up, featuring February 4 Host Pedro Pascal, received the most YouTube views at 6.3 million and counting.
Hot Girl Hospital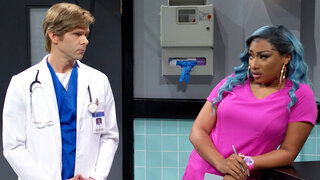 "Hot Girl Hospital" features October 15 Host Megan Thee Stallion. In it, the "Hot Girl Summer" rapper plays a nurse who presents a patient (Heidi Gardner) to the ER doctor (Ego Nwodim) at, yes, Hot Girl Hospital.
"I need a BBL stat, six CCs of Tummy Tea, and whatever Fashion Nova we got!" the doctor commands.
As the name suggests, this fictional drama "from Shonda Rhimes and the top commenters on The Shade Room Instagram" doesn't take place in your average medical facility: It's a glow-up center, where everybody walks out hotter. Supported by cast members including Punkie Johnson and Mikey Day, the sketch plays to Megan's comedic strengths—and fans clearly agree, as the clip has racked up 3.5 million views as of June 2023. 
RELATED: Saturday Night Live Earns Ten 2023 Emmy Nominations
Classroom
In a clip from Megan Thee Stallion's episode that's been viewed 3.6 million times (and counting), Ego Nwodim's character Ms. Fink is a substitute teacher who aims to inspire her students. Except, to her surprise, the kids already know that they're doing pretty great.
"Now, don't be embarrassed," Ms. Fink tells the confused-looking students, following a pep talk that's more insulting than uplifting. "How many of you can read?"
"...All of us?" replies one student. 
"Miss, this is an honors-level physics class," Megan's character adds. Hilarity ensues as Ms. Fink realizes how out of her depth she truly is. 
Lisa from Temecula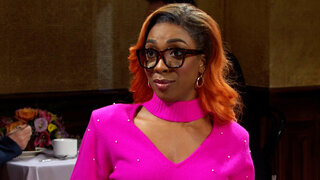 The third most-watched Season 48 sketch is from Pedro Pascal's wildly funny hosting stint, featuring the debut of Ego Nwodim's Lisa from Temecula character. The instant hit has inspired memes in addition to grabbing 5.2 million views on Facebook, as people can't seem to get enough of Nwodim's straight-talking, tough-steak-loving character swathed in hot pink. 
But it's Pedro Pascal breaking character that takes the sketch to "modern classic" level, as both the actor and Bowen Yang dissolve into giggles in a moment that's reminiscent of Rachel Dratch's "Debbie Downer."
Protective Mom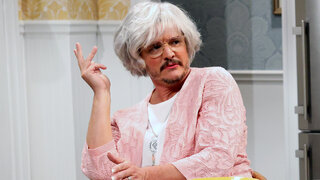 In a clip that received 5.3 million views in four months, Pedro Pascal donned a gray wig and pink cardigan to play mom to Lewis (Marcello Hernández), who is bringing his new girlfriend Britney (Chloe Fineman) home. 
Pascal manages to be both over the top and hilariously authentic as a passive-aggressive mother prone to dishing out digs in Spanish. Anyone who has experienced a stressful meet-the-parents situation will find something to relate to here. 
Waking Up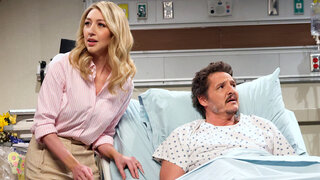 Taking the top spot as the most-watched sketch of SNL Season 48, host Pascal once again stars in "Waking Up," in which he portrays a man who has just woken up from a coma surrounded by his wife (Heidi Gardner), loved ones (Kenan Thompson and Sarah Sherman), and his doctor (Bowen Yang). The good news: The man is up and talking. The bad news: He has amnesia, a strange new accent, and as his wife puts it, "a totally different personality."
Those who've known Pascal for his dramatic roles in shows like Game of Thrones, The Mandalorian, and The Last of Us might've been twice as pleasantly surprised by the actor's formidable comedic chops. It's obvious that Pascal was having a great time in Studio 8H, and his delight was clearly shared by fans.