NBC Insider Exclusive
Create a free profile to get unlimited access to exclusive show news, updates, and more!
Sign Up For Free to View
Revisiting the Hilarious 30 Rock Episode About Night Court
Let's go back to 2008 for a second.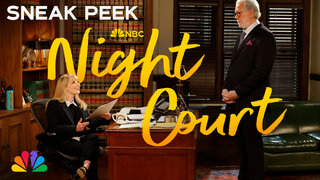 There are many iconic episodes of 30 Rock, but only one features the cast of Night Court, and it's worthy of a rewatch. Now that Night Court is returning to NBC (premiering Tuesday, January 17, 2023, at 8/7c), we're looking back at when 30 Rock featured it in 2008. 
30 Rock is famous for spoofing famous TV shows and movies, especially NBC programming. Season 3, Episode 3, "The One With the Cast of Night Court" is centered around the efforts made by Tracy Jordan (Tracy Morgan) to cheer up NBC Page Kenneth Parcell (Jack McBrayer), who is upset about the look of the new page uniforms.
Knowing that Kenneth is a huge fan of the hit NBC series Night Court (which was not given a closing season), Tracy makes a few calls and reveals to Kenneth that he's recruited Night Court stars Markie Post, Harry Anderson, and Charlie Robinson to visit 30 Rock and film a conclusion to the series as their respective characters. Kenneth is instantly delighted and starstruck by the ordeal.
Tracy and Kenneth write a script for the long-awaited wedding between Judge Harry Stone and Christine Sullivan, which never aired in the show's original run. Unfortunately for the production, Anderson and Post begin to bicker about past grievances, complicating the wedding and Kenneth's happy ending.  
After some careful negotiations and interruptions from Jenna Maroney (Jane Krakowski), who 30 Rock jokes played the "were-lawyer" in a subpar episode of Night Court, Post and Anderson set aside their differences and go forward with the wedding. 
Even better, while filming the vows of Harry and Christine's wedding, Harry declares it illegal to wear the new page uniforms and demands the old ones be brought back. Tracy reveals that he included the announcement in the script to let Kenneth know that he also called in a few complaints about the new uniforms. In the end, the entire Night Court orchestration was unnecessary, but Kenneth gets his happily ever after in the best way possible with the Night Court reunion he always wanted. 
Airing in 2008, 30 Rock had no clue that it was predicting the future with a new Night Court arriving to NBC in 2023. The new series will stay true to the original Night Court formula, this time starring Abby Stone (Melissa Rauch), Judge Harry Stone's daughter, who has taken over the courtroom for the infamous night shift. 
Watch Night Court Tuesdays at 8/7c and next day on Peacock.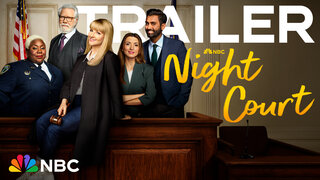 Stream episodes of 30 Rock on Peacock now.