NBC Insider Exclusive
Create a free profile to get unlimited access to exclusive show news, updates, and more!
Sign Up For Free to View
How Did the Original Night Court End?
If you're tuning in to the new Night Court on NBC—airing Tuesdays at 8/7c—refresh your memory about what happened during the show's original run.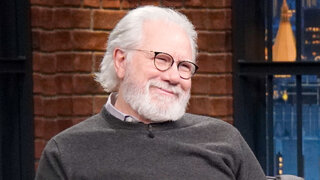 The original Night Court holds a special place in fans' hearts with its hilarious characters and sentimental moments. And with the exciting 2023 reimagining airing on NBC, you may be feeling nostalgic.
For those who need a refresher, here's a breakdown of how the original Night Court ended. 
How did the original Night Court end? 
The two-part series finale of the original Night Court, titled "Opportunity Knock Knocks," aired in 1992.  In the first part of the finale, Judge Harry T. Stone gets offered an associate professorship at Columbia Law School, a partnership with one of the most powerful law firms in the country, a seat on the superior court, an offer to host his own talk show, and an invitation to tour with Mel Torme. You know, just a few small offers!
Meanwhile, Dan Fielding prepares to propose to Pamela Monroe, his girlfriend with a very wealthy family. However, Pamela's mother, Clare Monroe, shockingly reveals that she and Dan briefly dated in the summer of 1967. Because of this, she urges Dan to break up with Pamela, to which he complies.
In the second part of the finale, Dan is very emotional over the breakup, lashing out on his coworkers. Judge Stone is torn between his multiple prestigious job offers and goes with his gut instinct, choosing Columbia Law School. Meanwhile, Christine Sullivan is elected to Congress and prepares to leave the night shift and the Manhattan Municipal Court. Then, Judge Stone reveals that he changed his mind on the job offer and elects to stay in the courtroom in order to make a difference. 
Then, in a twist, Dan hands in his letter of resignation to Judge Stone, saying he has to follow his heart and chase Christine, the only woman who he claims has truly understood him. 
If you want to see things pick up where they left off 30 years later with Judge Harry Stone's daughter, Abby, be sure to check out the new Night Court on NBC.
How do I watch the new Night Court on NBC?
Night Court airs Tuesdays at 8/7c on NBC. Episodes will be available for streaming the next day on Peacock.