NBC Insider Exclusive
Create a free profile to get unlimited access to exclusive show news, updates, and more!
Sign Up For Free to View
Inside Dan Fielding's Exciting Return to Night Court
See how he swapped sides from prosecutor to public defender.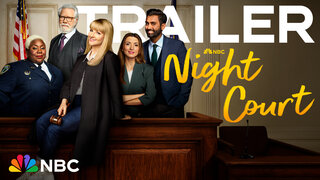 The new Night Court is finally here. And in the premiere episodes, which aired January 17, we are re-introduced to the beloved Dan Fielding (played again by John Larroquette). Although he initially seems to be the same, cynical character we were all familiar with during the original Night Court series, these new episodes reveal there is a soft spot to him deep down.
Abby Stone is the new Judge working the night shift at the Manhattan Municipal Court. Wide-eyed and optimistic, she takes after her late father, Judge Harry T. Stone, who served at the same court in the '90s. The highly empathetic Abby likes to get to know the person behind the case and digs deeper before reaching a verdict.
When the court's public defender suddenly quits, Stone attempts to recruit her father's former colleague, Dan Fielding. "We need someone who cares about people just as much as I do, and I think I know just the guy," she says.
When Stone shows up at Fielding's apartment, he lets her in when she reveals that Judge Harry T. Stone was her father. "I'm afraid you've confused me for someone else, someone who…likes people," Dan says when Abby propositions him about the public defender role. "My practicing days are behind me."
However, the persistent Abby asks him to come down to the court temporarily under the guise that she needs his help. He reluctantly agrees but storms off later after the two have an argument. (Abby confronts Dan about him not being able to open up, which he doesn't take well.) 
Dan then surprises Abby by later showing up to court and announcing himself for the defense, much to her delight.
In the second episode, Abby admits that Dan isn't adapting as well to his new position as she thought he would, and attempts to push him to put more effort into his job.
"I am not here to be a part of anybody's project," Dan says defensively after insisting that his new role is only temporary.
The next night at court, Dan does an over-the-top, emotional defense of his client to taunt Abby, which she sees through immediately. "I'm not that kind of lawyer, I deal with evidence and precedent, not feelings," Dan explains.
However, Abby always believes that people can change. "See, you're giving up on yourself. Which makes you the perfect person to represent people who are constantly given up on," she tells him. 
"Fine. I will try. I will dig in. I will get to know my clients as people," Dan responds. 
But did Dan turn over a new leaf? Is his role at the court truly only temporary? Tune in next Tuesday to find out!
Watch Night Court Tuesdays at 8/7c on NBC and next day on Peacock.