NBC Insider Exclusive
Create a free profile to get unlimited access to exclusive show news, updates, and more!
Sign Up For Free to View
Where to Watch the New Night Court on NBC
This revival is a must-see.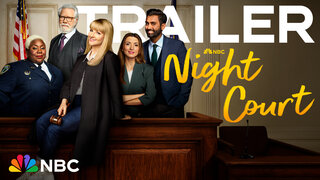 The first season of NBC's new Night Court premiered in January and provided many laughs to fans during its first season, thanks to the stellar ensemble cast of Melissa Rauch, John Larroquette, Lacretta, Kapil Talwalkar, and India de Beaufort, as well as a slew of hilarious guest stars.
If you missed the hilarious revival when it first premiered, here's how to find it online. 
How do I watch or stream Night Court?
The show's 16 Season 1 episodes are all available on NBC.com and Peacock. 
The most recent five episodes — Season 1, Episodes 12-16 — are completely free on NBC.com, so if you missed the tail end of the show this spring, you can catch up without even creating a Peacock account.
Season 2 episodes will also be available on Peacock the day after they air on NBC. 
RELATED: Where Is the Original Night Court Cast Now?
When is Night Court Season 2 premiering?
The new Night Court was promptly picked up for a second season after a massively successful premiere, continuing the fun storylines with Judge Abby Stone (Rauch), Dan Fielding (Larroquette), and company. 
A special Night Court holiday episode airs Saturday, December 23 at 8:30/7:30c on NBC. Season 2 officially kicks off Tuesday, January 2 at 8/7c on NBC. It will air Tuesdays at 8/7c and next day on Peacock. 
Is the new Night Court a revival of the old show?
While it's completely possible to watch the newer show without any background information, Night Court is indeed a revival of a show that premiered in the 1980s. 
The original sitcom starred Harry Anderson, John Larroquette, Markie Post, Marsha Warfield, Richard Moll, and Charles Robinson. Larroquette returned for the reboot, reprising his original role much to fans' delight. 
RELATED: This Is How "Dan Fielding 2.0." Changed the New Night Court, Says India de Beaufort
What is the new Night Court about?
The new version of Night Court follows the story of the daughter of the original show's Judge Harry T. Stone (Harry Anderson), Abby, in her humorous attempts to manage the crew of oddballs and tackle the whimsical cases at the Manhattan Municipal Court. Larroquette reprises his role as prosecutor Dan Fielding, a night court district attorney, alongside de Beaufort, Talwalkar, and Lacretta. 
Was the new Night Court nominated for an Emmy?
Glad you asked! The 2023 show was nominated for an Emmy Award for Outstanding Picture Editing For A Multi-Camera Comedy Series. That's a massive feat for a first-season show, and definitely indicates just how well-received the reboot has been from fans and critics alike. 
Want to find out what happens next? Watch Night Court on NBC and Peacock to find out!
Originally published May 8, 2023.