NBC Insider Exclusive
Create a free profile to get unlimited access to exclusive show news, updates, and more!
Sign Up For Free to View
Night Court Season 2 Comes This Fall to NBC
Your favorite Judges, lawyers, and juries will return! Catch Night Court on NBC.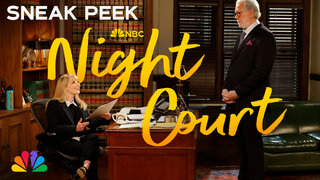 It's official: Night Court is coming back for a second season!
Season 1 of the new version of the courtroom sitcom has been so well-received that it has been promptly renewed for a second one, and we couldn't be more excited.
"It's so rewarding to have audiences respond and return to a show in which they have such incredibly warm feelings, and, more broadly, it's testament to how broadcast is still a huge driver of communal viewing," Lisa Katz, NBC's president of scripted content, said. "A huge thank you to our studio partners, a wonderful cast, incredibly talented writers and producers, and a crew that has transformed a lower Manhattan courtroom into a true family."
Night Court's pilot episode was the number-one broadcast premiere of the 2022-2023 season. And with the zany, heartfelt characters, amazingly talent cast, and clever writing, it's not hard to understand why.
"The verdict is in and the 'new-boot' of Night Court is a hit! The series' razor-sharp humor makes the show a weekly must-watch," Channing Dungey, chairman and CEO of Warner Bros. Television Group, said. "We're overjoyed that court will remain in session and return with new cases for Season 2. We're so grateful to our colleagues at NBC, to the richly talented creative team led by Melissa Rauch, Winston Rauch, Dan Rubin, and John Larroquette, and to the stellar ensemble cast."
Here's what you need to know about Night Court Season 2:
When does Night Court Season 2 premiere? 
Fall 2023! Tuesdays at 8/7c on NBC and next day on Peacock. 
As for what viewers should expect from the new Night Court, John Larroquette, who reprised his role as Dan Fielding, gave some insight. "It's still Night Court, so you're still gonna have a rowdy circus of perpetrators that wind up there at, like, 3 o'clock in the morning who will be just as impressive to the audience as the old guest stars," he told Deadline. 
On the topic of reviving his iconic character, Larroquette says he had his amazing co-stars to fall back on. "Let me really be honest, I am 40 years older than when I began that part, so getting in his shoes was difficult because my feet are swollen," he told TV Insider. "Luckily, I had Melissa to play against, and it fell into place easily."