NBC Insider Exclusive
Create a free profile to get unlimited access to exclusive show news, updates, and more!
Sign Up For Free to View
Everything to Know About the New Night Court on NBC
Night Court is back in session!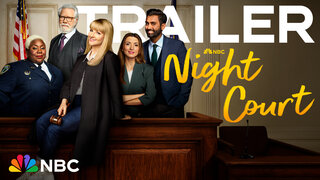 All rise: The first season of the new Night Court on NBC has carried on the legacy of the beloved original in the best way. 
The original Night Court had a nine-season run from 1984 to 1992, focusing on the night shift of the Manhattan municipal court. The series centers around the court's eccentric staff, wacky court cases, and the endlessly hilarious legal practices of Judge Harry T. Stone (late Harry Laverne Anderson). Night Court was a critical success, scoring 31 Emmy nominations and seven wins throughout its nine seasons. 
With Night Court's revival, we saw a continuation of the original story. Harry Stone's daughter, Abby (Melissa Rauch), took the reins of Judge at the Manhattan municipal court, the same position that her late father once famously had. Throughout the first season, we saw the return of Dan Fielding (John Larroquette) to the night court, thanks to Abby's persistence. We've seen the cast tackle lots of kooky cases, and the heartwarming connections between the main characters tied everything in the show together. Here are the highlights of Season 1 for a refresher: 
The return of Dan Fielding
While former prosecutor Dan Fielding became a recluse after the death of his wife, the always-compassionate Abby used her people skills to convince him to come out of his shell and return to the night court. This time, he's on the other end of the spectrum as a public defender.
While he was known in the original Night Court to be an arrogant womanizer, his commitment to his wife, Sarah, taught him how to be more considerate of others. Nonetheless, Dan's signature biting sarcasm remained in his character. 
Abby's fiancé
Abby has a fiancé named Rand who currently resides in her hometown in upstate New York. They are managing long distance while Rand arranges to move to NYC with Abby. In an emotional moment, Abby opens up to Dan about how hard planning the wedding has been for her since her father passed. 
Meanwhile, it has been revealed that Neil (Kapil Talwalkar) has a crush on Abby. Gurgs (Lacretta) accidentally spills the beans to Abby, making things quite awkward between her and Neil. They later run into Neil's high school crush, Gabby, who's going through a divorce. When Gabby tells Abby about why she and her husband are splitting, it reminds Abby of her own relationship, causing her to have doubts. 
Abby gets arrested
Here's what happened: An elderly woman comes to the court, charged with arson after visiting her husband in a nursing home for his birthday. During the visit, the birthday candles she brought accidentally start a fire. Abby realizes that the arson charges were too harsh, and dismisses the case.
However, the woman has since been banned from visiting the nursing home. She comes to Abby distraught because she wants to be with her husband during his birthday, claiming they might not have much time left together. Abby then hatches a plan to break the woman's husband out of the nursing home.
But during their heist, they're caught by the police. In the very last scene of the episode, we see her calling Dan from her cell asking for his help. Of course, by the finale, all of this is resolved!
Roz makes a comeback 
To the surprise of fans, Marsha Warfield reprised her role as Roz Russell in a last-minute scene during the Season 1 finale. She appeared at a court in Louisiana where Dan Fielding was Judge after being arrested during a bachelorette party gone awry. So funny!
Was

Night Court

a spin-off of

Cheers

?
Because of their critical acclaim and popularity at the same time of release, many confuse Night Court as a spin-off to the hit NBC comedy Cheers. However, Night Court is not a spin-off but an original series that also aired on NBC during its original run. 
How to watch the new

Night Court
Watch Night Court on NBC and Peacock. The Season 1 finale airs May 9, 2023.