NBC Insider Exclusive
Create a free profile to get unlimited access to exclusive show news, updates, and more!
Sign Up For Free to View
How to Watch and Stream the Original Night Court
Here are all the streaming services where you can find the original Night Court.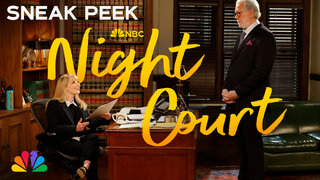 The original Night Court was a smash-hit success that ran from 1984 to1992 on NBC for a whopping nine seasons. It's no surprise that it was so well-received given the creative characters in a highly entertaining setting (the night shift at the Manhattan Municipal Court). This led to viewers to welcome the new version of Night Court with open arms, which also features John Larroquette reprising his role as Dan Fielding. However, many OG fans are looking to scratch their nostalgia itch by binge-watching the original NBC hit with Harry Anderson, Markie Post, Marsha Warfield, and more. But where can you watch all 193 episodes of the original Night Court? Keep reading to find out.
How to watch the original Night Court
The complete series of the original Night Court can be found on the following streaming services: Amazon Prime Video, Vudu, Google Play, and YouTube.
On Amazon Prime Video, the entire series is free if you have an Amazon Prime subscription, thanks to Amazon's ad-supported streaming service Freevee.
On Vudu, you can buy individual episodes for $1.99, while individual seasons run for $14.99. And on this platform, you can buy the whole series of the original Night Court for $79.99.
When it comes to Google Play, individual episodes are available to purchase for $1.99 each, whereas the seasons can be bought for $28.50.
And then for YouTube, individual episodes can be bought for $1.99. When it comes to buying the seasons, you have the option to purchase all nine of them for $19.99.
How to watch the new Night Court?
If you want to sign up for even more laughs, you also may be wondering where you can watch the new version of Night Court starring Melissa Rauch, John Larroquette, Lacretta, Kapil Talwalkar, and India de Beaufort.
The answer is simple: Peacock!
The new Night Court airs on NBC Tuesdays at 8/7c. Episodes will then be available for streaming the next day (Wednesdays) on Peacock.
So, what are you waiting for? Get to streaming!