NBC Insider Exclusive
Create a free profile to get unlimited access to exclusive show news, updates, and more!
Sign Up For Free to View
Who Is the Night Court Bailiff Now?
On the new Night Court, this funny character is played by an equally-funny actress.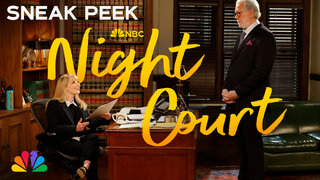 The hilarious Richard Moll and Marsha Warfield surely made their impact as the original Night Court bailiffs. While Moll's character, Bull, was sweet and sincere, Warfield's character, Roz, always knew how to make a witty comeback. And even though the two are not set to reprise their roles in the 2023 version of Night Court, don't fret: The character stepping in surely lives up to their legacies. But who, exactly, is the Night Court bailiff in NBC's new reimagining of the iconic series?
Who is the Night Court bailiff now?
The night court bailiff in 2023's Night Court is a woman named Donna Gurganous, who goes by "Gurgs." She's an upbeat and caring woman with a quirky spark to her, but she's sometimes known to have a short fuse.
As for the actress herself, she's played by an ultra-funny woman named Lacretta. A veteran of the comedy universe, she has her acting origins on the theater stage. When it comes to screen roles, you may recognize her from 30 Rock and Broad City. She's also no stranger to the universe of court-setting shows, as she had a role in Law & Order: Special Victims Unit in 2012.
"Gurgs is weird in a great and interesting way. She's smart—she's just different from our typical big, Black woman, and I really want to embrace that. I've worked and gotten to the point in my skill and talent where I'm able to be honest as well and not just be weird for the sake of being weird," Lacretta told TheaterMania in January 2023. "I'm a weird person. And I think that Gurgs is even weirder. It was nice to just kind of relent to her weirdness." 
Although Lacretta has two big pairs of shoes to fill by taking the role of two night court bailiffs from the original Night Court, she's not intimated by this mighty task. "I wanted to stand in my own character because Gurgs is her own character and is not Marsha Warfield, and she's not Richard Moll," she told TheaterMania. "I'm staying reserved and level-headed about it. I'm the kind of person that doesn't really raise my expectations for things." 
Gurgs is also passionate about her job. "Why do I keep putting on this uniform? I think being here is important. I want the people who come to court to see someone from their community, someone who understands them, and who doesn't just assume they're guilty. I mean, sometimes they are very guilty. But they still deserve to be treated like human beings, and that's what I do," she said in Episode 6. 
Watch Night Court Tuesdays at 8/7c on NBC and next day on Peacock.