NBC Insider Exclusive
Create a free profile to get unlimited access to exclusive show news, updates, and more!
Sign Up For Free to View
Was Richard Moll on the New Night Court?
The actor played one of the OG show's bailiffs, Aristotle Nostradamus Shannon, otherwise referred to as "Bull."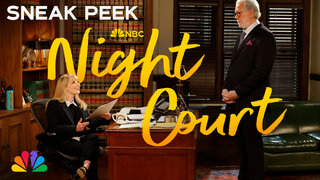 The original Night Court — which aired from 1984 to 1992 — was packed with a hilariously memorable cast, and the late Richard Moll was among these fan-favorite characters.  
For each of the O.G. shows's nine seasons, Moll played deadpan court bailiff Aristotle Nostradamus Shannon, otherwise known as "Bull." Bull's menacingly large stature combined with his magnetic charm gave him a "gentle giant" persona and he played his character as naïve yet protective. Throughout the show, he formed a close friendship with the court's other bailiff, Roz Russell (Marsha Warfield). Bill married his girlfriend, Wanda, in the series' final season. 
RELATED: NBC's New Night Court Received an Emmy Nomination 
With the resurgence of Night Court, many have looked back on Moll's legendary part in the original series. Read on to learn more about the cherished fan-favorite character.  
What happened to Bull Shannon on Night Court?
Boasting an I.Q. of 181 but always managing to seem dim-witted, Night Court's Bull Shannon instantly made an impression with his unique yet hilarious antics. Bull's charming naïveté was the source of dozens of running jokes, and his iconic catchphrase "Ohh-kay" was one of the most easily recognized quotes from the show.
Moll played Bull as the lovable yet unpredictable wild card, and his journey was one of the most beloved storylines of the sitcom — especially once he married Wanda Flinn in Season 9, Episode 10 ("Get Me to the Roof on Time").  
Richard Moll's Other Movies & T.V. Shows
Outside of his work in the 193 episodes of Night Court, Moll starred in several film and television projects.
He made his film debut in the 1977 biopic Brigham, playing murdered Mormon faith founder Joseph Smith in a picture dedicated to early Mormon leader Brigham Young. He then had a series of guest appearances on some of the most storied television shows of the 1970s and '80s, including Welcome Back Kotter, The Rockford Files, Happy Days, The Bad News Bears, Laverne & Shirley, Bret Maverick, Mork & Mindy, T.J. Hooker, Remington Steele, Fantasy Island, The Dukes of Hazzard, The A-Team, and Santa Barbara. (He also played himself on The Facts of Life and reprised the role of Bull on My Two Dads after Night Court became a huge hit.)
Though he had a full head of hair, he shaved all off to play Hurok, the leader of a group of one-eyed nomads, in the B-movie Metalstorm: The Destruction of Jared-Syn (1983). Producers at his audition for Night Court liked the look so much that he got the part — and had to keep shaving his head for eight years.
After the show ended, Moll became well known for voicing Two-Face in Batman: The Animated Series and The New Batman Adventures.  Moll also had memorable roles in the films But I'm a Cheerleader,  Casper Meets Wendy, Scary Movie 2, and The Flintstones, to scratch the surface of his extensive film portfolio.  
Some of Moll's other television credits include Sabrina, the Teenage Witch, 7th Heaven, Cold Case, Anger Management, and Smallville. He also had a recurring role as bodyguard Norman in the 1993 animated series Mighty Max. He also had guest roles on Married with Children, Dr. Quinn Medicine Woman, Baywatch, Babylon 5, and Anger Management.
Boasting a career that spanned decades, highlighted by memorable performances, Moll was a one-of-a-kind talent.  
"I'm a character man. I like to play all different types of things," Moll said on The Arsenio Hall Show in 1989. 
His final role was as Officer Green in the Christmas-themed horror film Slay Belles (2018).
Originally published Jan 20, 2023.