NBC Insider Exclusive
Create a free profile to get unlimited access to exclusive show news, updates, and more!
Sign Up For Free to View
All About Faith Ford, the Sitcom Legend Playing Abby's Mom on Night Court
Watch Faith Ford on Night Court to learn more about Abby's family background.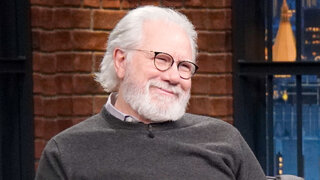 The new Night Court is bringing on a slew of much-anticipated guest stars, and there's one particular well-known actress who plays a very significant character in an episode. We're all excited to see Faith Ford on Night Court! Here's everything you need to know about the actress and her new Night Court role.
Who is Faith Ford?
Faith Ford is a legendary actress in the television universe. Her first major gig was Julia Shearer in the NBC soap opera Another World in 1983. Other roles include Janine in Thirtysomething, Shelly Kilmartin in Norm, and Leila Brooker in Carpoolers.
Today, Ford is most widely recognized for her starring role in the sitcom Murphy Brown, which first aired in 1988. Murphy Brown followed the story of a news journalist, aptly named Murphy Brown, who returns to her demanding job after a stay in rehab to receive treatment for her drinking problem. Ford played a primary character named Corky Sherwood, who initially replaced Brown's position during her temporary leave of absence. A former Miss America Contestant, viewers were so receptive of Sherwood's bubbly and lighthearted demeanor that management elected to keep her presence on set. However, Sherwood's character manages to grow as a person throughout the show's run, becoming more down to earth and gaining wisdom as she faces many challenges in life.
The original version of Murphy Brown ran for a whopping 10 years. It was brought back for a revival in 2018, which aired for one season. The new version showed Ford reprising her role as Corky Sherwood, this time co-hosting a morning news show titled Murphy in the Morning with Murphy Brown.
After the original version of Murphy Brown ended in 1998, Ford went on to star in the sitcom Hope & Faith alongside Kelly Ripa. The show aired from 2003-2006, and Ford played the character named Hope while Ripa starred alongside her as her sister named Faith. Ford's character was a level-headed wife and mother of three who resides in a suburb in Ohio. 
Who is Faith Ford on Night Court? Gina! 
Gina on Night Court is played by Faith Ford. She is Abby Stone's mother.
Abby Stone, of course, is the main character in the 2023 version of Night Court, and she speaks about her family fondly. Abby is engaged to a man named Rand and often reminisces about her father Harry Stone's life lessons and magic tricks. While Abby strongly takes after her father's idealistic nature, we have yet to see how the emotional bond between Abby and her mother unfolds.
Melissa Rauch, who plays Abby, had nothing but positive things to say about working with Faith Ford. "[Faith Ford] is just a dream of a person. She's one of the kindest, most loving people that I've met in this business, and I can't say enough wonderful things about her," she said in an interview with NBC Insider.
"I loved having Faith Ford on our set. I remember standing behind the monitor and watching the scene between her and John Larroquette. And just thinking to myself I can't believe that I'm getting to watch these two sitcom all stars who I remember watching on TV on their respective sitcoms and loving them. And the fact that they were both together doing this wonderful scene and both just firing on all cylinders just was so cool," she continued. 
On working with Rauch, Ford told TV Insider, "I did not know Melissa before. I watched some of her work [ahead of filming], and I thought she was adorable, but she far exceeded all my expectations. She's so smart and just compact in her meaty, mighty body. [Laughs]. There's something about these Jersey girls, you know? Kelly [Ripa] is a Jersey girl that I worked with [on Hope & Faith]. I really am simpatico with them. I loved Kelly, working with her, and now I love Melissa. Melissa is the sweetest heart. She's so smart, so conscientious, so in charge, but yet not. Remembering all that she has to remember, I'm just impressed by her as a producer, and the way she works with John has been incredible. And, you know, John's a maestro at what he does." 
Watch Night Court Tuesdays at 8/7c on NBC and next day on Peacock.