NBC Insider Exclusive
Create a free profile to get unlimited access to exclusive show news, updates, and more!
Sign Up For Free to View
What Happened to Ray Abruzzo on Night Court?
What was this memorable character's storyline? Tune into the new Night Court on NBC.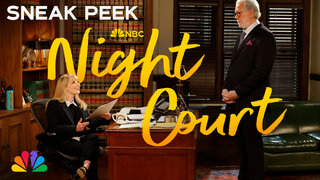 The original Night Court was filled with many memorable characters played by hilariously talented actors. And someone you may remember, Ray Abruzzo, has surely made his mark on the show. But what happened to Ray Abruzzo on Night Court?
Who is Ray Abruzzo?
Ray Abruzzo is an American actor who starred in several episodes of Night Court from 1989 to1991. His major credits aside from Night Court include The Sopranos and The Practice. He's also had roles in Law & Order: Special Victims Unit and Dynasty.
What happened to Ray Abruzzo on Night Court?
Abruzzo played the recurring character Tony Giuliano on seven episodes of the original Night Court. An NYPD detective, we first get introduced to Giuliano when he's hired to hunt down the person attempting to murder Dan Fielding. There, he meets Christine Sullivan, and the two immediately hit it off. In Season 7, he makes an impromptu proposal to Christine during dinner, and the two get married at the restaurant.
Although Christine begins to question the impulsive choice she made, she realizes a few weeks later that she is pregnant, so she chooses to stay with Tony. However, the two divorce at the end of Season 8, despite Tony attempting to win her back.
Will 

Ray Abruzzo be in the new Night Court?
As of right now, neither Arbruzzo nor his character have any plans to return to the new Night Court.
Aside from Abruzzo's character, Christine Sullivan was also seen as a primary romantic interest of Judge Harry T. Stone in the original series, as the two had fluctuating "will they or won't they" tension during the show. Meanwhile, Dan Fielding continually lusted after Christine.
In a memorable twist, Dan told Harry in the finale that he was moving to D.C to pursue her after she got elected to congress. He claimed that Christine was the only woman who truly understood him, much to Harry's confusion.
However, Christine has yet to be mentioned on the new Night Court, as Dan Fielding settled down and married a woman named Sarah, who has since passed away.
As for Markie Post, the actress who played Christine, she passed away of cancer in 2021.
Watch Night Court Tuesdays at 8/7c on NBC. Episodes of the show will stream the next day on Peacock.