NBC Insider Exclusive
Create a free profile to get unlimited access to exclusive show news, updates, and more!
Sign Up For Free to View
What Happened to Dan and Christine on Night Court?
Did the two ever get together? Watch the new Night Court Tuesdays at 8/7c on NBC.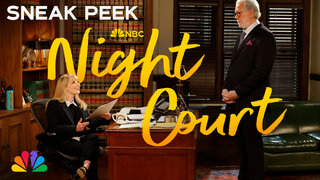 The ending of the OG Night Court gave us a twist surrounding Dan Fielding's (John Larroquette) character, leaving viewers wondering if he ever got together with one of the other main characters, Christine Sullivan.
In the finale of the original Night Court, Dan Fielding tells Judge Harry T. Stone that he's leaving his job at the Manhattan Municipal Court for one very specific reason: to chase after Christine Sullivan. Christine, who was the public defender at the Manhattan Municipal Court, got elected to Congress during the finale, and was preparing to move to Washington, D.C. However, Dan said that Christine was the only woman who has ever truly understood him and that he had to follow his heart and be with her.
This news came as a surprise to Judge Stone, and a laugh to the audience, as Christine had been a primary romantic interest to Harry throughout the original series. Dan also lustfully attempted to pursue her multiple times but wasn't exactly known for his desire for deep romantic, emotional connection at the time. But what exactly unfolded between Dan and Christine in the new Night Court?
RELATED: Everything to Know About Night Court's Incredible New Cast on NBC
What happened to Dan and Christine on Night Court?
When it comes to the new Night Court, there is no mention of any relationship between Dan and Christine happening. As it turns out, Dan ended up marrying a woman named Sarah, who has since passed away before the start of the series. Dan credits Sarah with changing his perspective on the world and relationships in a major way, calling his marriage the great romance of his life.
"I wanted to make her happy. Before Sarah I couldn't imagine putting anyone's needs ahead of mine. But she changed me. I mean, the old me would have been very much into this, but I'm a different man now. I realize there's more to life," he says in Episode 4. 
As for what happened to Christine, her name has yet to be mentioned in the new Night Court. Markie Post, who played her in the original, unfortunately passed away of cancer in 2021.
Watch Night Court Tuesdays at 8/7c on NBC. Episodes of the show will stream the next day on Peacock.