NBC Insider Exclusive
Create a free profile to get unlimited access to exclusive show news, updates, and more!
Sign Up For Free to View
John Larroquette Actually Improvised This Hilarious Moment in Night Court's Pilot
See what Melissa Rauch describes as Larroquette's "sitcom magic!" Watch Night Court Tuesdays on NBC.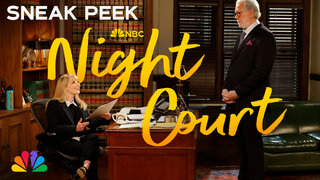 The new Night Court has no shortage of brilliance from the actors. And in a new interview with NBC Insider, Night Court star Melissa Rauch (Abby Stone) gives us some behind-the-scenes details on the top-notch improv choices from comedy master John Larroquette (Dan Fielding).
First, some context: In one of the pivotal scenes in the pilot episode, Abby goes to the apartment of her late father's former co-worker, Dan Fielding. He lets her in as soon as she announces who she is, and the two exchange some hilariously awkward small talk.
"So, what brings you to town?" Dan asks.
"I moved here for a job. I am the new Night Court Judge," responds Abby, prompting Dan to let out a high-pitched gasp and put his hand over his face.
Well, it turns out, that hilarious little screech was made up on the spot by Larroquette. 
"When we were shooting the pilot, the first scene that we did together was a scene in Dan's apartment between Abby and Dan when she goes to get him. And he has this wonderful yelp, this Dan Fielding yelp, that he lets out. And it was totally improvised; it was just in the moment. It's one of my favorite moments. It's just this bit of sitcom magic that he sprinkles into every scene he's in," Rauch told NBC Insider. "He's just a master class at this craft. And he's so funny, he's so sharp.  Watching him in front of a live studio audience, he's just absolutely electric in how he brings this character to life."
Rauch then went on to explain the heartwarming dynamic between the two main characters. "Although Abby is bringing Dan into the court and she's filling a position, she also sees that he's in need of help," she said. "And Abby is someone who [is] a helper. She wants to pull out the best in people. And she sees he's hurting and sees that he's a bit lost. And so this outreach, as much as she's filling a position and would like him to come and join her, she's also noticing that this would be really good for him. I think that the two of them really need each other in different ways, and they help each other in different ways. And that sort of father, surrogate father-daughter relationship is really the driving force in their interactions." 
Watch Night Court Tuesdays at 8/7c on NBC. Episodes of the show will stream the next day on Peacock.