NBC Insider Exclusive
Create a free profile to get unlimited access to exclusive show news, updates, and more!
Sign Up For Free to View
The John Larroquette-Harry Anderson Easter Egg You Missed in the New Night Court
Look closely or you might miss it! The new Night Court airs on NBC Tuesdays at 8/7c.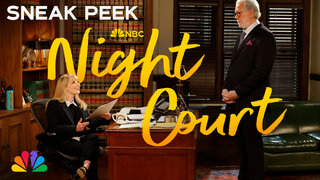 The new Night Court is full of witty jokes and heartwarming characters. It's obvious a lot of thought has been put into the show's production, especially when it comes to making throwback references to the original. In the first episode, for example, there's an Easter egg on the set that honors two main actors from the OG Night Court– but what, exactly, should you be keeping an eye out for?
A pivoting scene in the pilot episode (watch above) is when Judge Abby Stone (Melissa Rauch) goes to visit the apartment of her late father's colleague, former district attorney Dan Fielding (John Larroquette). In this emotional moment, there's actually a subtle detail you may not have noticed: The number to Fielding's apartment, 504.
While this may just seem random, the digits actually have a deep significance to the original Night Court cast. As it turns out (and as this Reddit user noted), 504 is the area code number to New Orleans, Louisiana. And Larroquette was born and raised in New Orleans, according to The Washington Post.
To make things even more fascinating, Harry Anderson, who played protagonist Harry T. Stone in the original, owned a magic shop in New Orleans after Night Court wrapped (as this Reddit user noted). Coincidence? We think not!
Judge Harry T. Stone was known for loving magic in the original Night Court, something that Abby keeps close to her heart in the new version. This clever character feature was inspired by the actor himself, as Anderson was an avid magician. "I'm a magician, or a performer, by nature, and that's always what I've been," he told WGN9 in 2014.
Anderson also ended up moving back to New Orleans with his wife, Elizabeth, in the early 2000s, according to The Washington Post. Unfortunately, he passed away in 2018 at the age of 65. In the new Night Court, it was revealed that Judge Harry T. Stone had passed away, as well. "I was sorry to hear about your father. We lost touch over the years, but he was a great guy," Dan earnestly said to Abby in the pilot.
Watch Night Court Tuesdays at 8/7c on NBC and next day on Peacock.