NBC Insider Exclusive
Create a free profile to get unlimited access to exclusive show news, updates, and more!
Sign Up For Free to View
Yes, the New Night Court Will Have Surprise Nods to the OG
Fans of the OG Night Court will love this new show.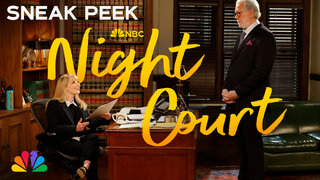 If you loved the original Night Court, then you're in a real treat when it comes to the 2023 reimagining starring Melissa Rauch and John Larroquette. That's because the new show embodies the same spirit of the original, with its own new twists.
"It's still Night Court, so you're still gonna have a rowdy circus of perpetrators that wind up there at, like, 3 o'clock in the morning who will be just as impressive to the audience as the old guest stars," Larroquette told Deadline.
But how exactly do the two versions relate to each other? Keep reading to find out.
The big similarity between the original and revamped version of Night Court is the presence of the character Dan Fielding, portrayed by the same actor, John Larroquette. Although Fielding appears to be bitter and reclusive in the start of the new show due to the death of his wife, Judge Abby Stone (Rauch) manages to change his perspective on life. "He got out of the law system and found somebody he fell in love with and who fell in love with him," he said to TV Insider. "He was content and matured. And then his wife passed away, and he retreated back into this dark cave. Dan is pulled back into the light by Harry's daughter."
Those who appreciated the good-hearted nature of protagonist Harry T. Stone on the original Night Court are in for a good case of déjà vu with Rauch. Although Harry passes away before the start of the new Night Court, he and his daughter, Abby (Rauch), have very comparable outlooks on life. "I love that Abby really looks to see the good in people. Much like her father, she genuinely cares for others and wants what's best for them. I also admire how she makes an effort to see the positive. It's an active choice she makes because she has experienced enough grief to know that the alternative is not for her," Rauch told Glamour.
As for other nods to the OG, Rauch tells Parade, "There will be surprises throughout the season for fans of the original. We're paying respect while also creating this fresh new world."
Watch Night Court Tuesdays at 8/7c on NBC and next day on Peacock.