NBC Insider Exclusive
Create a free profile to get unlimited access to exclusive show news, updates, and more!
Sign Up For Free to View
Judge Harry Stone Had an Important Part in This New Night Court Episode
Harry's daughter, Abby (Melissa Rauch), opened up about him to Dan (John Larroquette) in a vulnerable scene.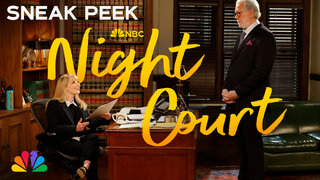 In the new Night Court, Judge Abby Stone (Melissa Rauch) takes after her father Judge Harry T. Stone's compassionate nature. And although it was revealed that Harry has since passed away, his essence is still within Abby and Dan's (John Larroquette) hearts throughout the show. In Episode 3, for example, Abby reveals some more intimate personal details surrounding her relationship with Harry before his death.
Abby accidentally sabotages a case with an undercover cop when her attempts to be generous backfire. She takes the mistake so hard that she vows to change her ways as a Judge. "From here on out, I'm all about boundaries," she declares. She then adapts a harsh, detached demeanor. When Dan decides to reason with Abby about this new wall she's built up, the two share a vulnerable moment.
"My late wife, Sarah, was in recovery for a few years before we met. She was always adamant about being of service to others. I often thought that she went too far, I was selfish, I wanted her to be with me. But I soon realized that it was much, if not more, for her than it was for those other folks. When she couldn't help someone find their way, it weighed on her. Maybe like this has been weighing on you," he shared before revealing that his wife was in recovery for alcohol.
Then, Abby disclosed a personal secret to Dan: She was in recovery for a drinking problem in the past, as well. She then opened up about how this journey brought her closer to her late father, Harry.
"I lost a lot of time with my dad when I was at my worst," she said. "But he always had faith in me. [He] said he was keeping that faith saved until I had it in myself again. I got into recovery in time for him to see me get better, but I never felt like I could make up for that lost time. It's one of the reasons I took the job here, to feel connected to him. So when it's not going well, and I mess up, it's like I'm failing him all over again," she said on the brink of tears.
Dan was quick to comfort her pain. "The Harry I knew, you failing him, that thought would have never even remotely entered his mind," he assured her. And we're crying. 
Watch Night Court Tuesdays at 8/7c on NBC. Episodes will stream the next day on Peacock.