NBC Insider Exclusive
Create a free profile to get unlimited access to exclusive show news, updates, and more!
Sign Up For Free to View
Melissa Rauch Explains Why Abby Is So Positive on Night Court
The Judge truly knows how to see the good in everything! Watch Night Court on NBC.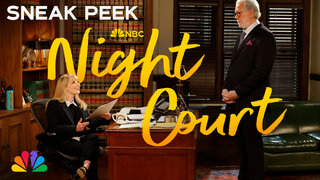 In the new Night Court, the two main characters, Judge Abby Stone and lawyer Dan Fielding, could not be more opposite. While Dan tends to be cynical and reclusive (although he is slowly changing his ways), Abby always knows how to look on the bright side of life. And in an interview with NBC Insider, Melissa Rauch gave us firsthand insight on how she chooses to play her bubbly character.  
"Abby's optimism is something that I personally admire," she said. "I honestly wish I even had more of it for myself. But I think her choice is to be optimistic. It's not that this is a Pollyanna disposition or because she's naive and hasn't experienced life. This is because she's experienced darkness and she's experienced grief and she's actively choosing to go towards the light because the alternative just hasn't worked for her in the past," Rauch said.
Rauch then went on to explain what motivates Abby's empathetic nature. "In Episode 3, we find out that she's struggled a lot in her life, and that is an aspect that really drives her," she said. "And the fact that she leads her courtroom in the way she does in trying to see the best in people and give people a second chance and not seeing people for their crimes but for the people they are. That really is motivated by her history and her being given this second chance on life. In addition to really being guided by her father's philosophy of the courtroom, which she really looks towards I think as her north star in many ways."
Lastly, Rauch added, "Abby faces many hardships in her job and life yet still puts other people first...I think Abby's challenge in the job is not sacrificing herself at all times for the wellbeing of others. I think she's very much led by trying to do the right thing and seeing the best in people and making sure that everyone is getting a second chance. I think sometimes she'll do that at a cost to herself. And I think she's sort of learning where that line and where that boundary is. I don't know if it's gonna stop her. But I think it's something that she'll have to face at some point throughout the season." 
Watch Night Court Tuesdays at 8/7c on NBC. Episodes will stream the next day on Peacock.