NBC Insider Exclusive
Create a free profile to get unlimited access to exclusive show news, updates, and more!
Sign Up For Free to View
These Original Night Court Set Pieces Are in the New Show—Did You Spot Them?
What props should viewers be keeping an eye out for while watching the new Night Court?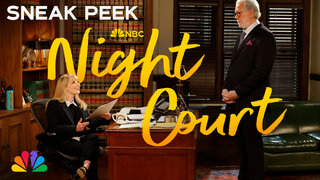 Fans of the original Night Court are in for a real treat when they watch the new version on NBC. There are many on-set references to the OG show in the 2023 version, both obvious and subtle.
"We have lots of little Easter eggs for everyone. Maybe people have noticed already," Melissa Rauch said in an interview with NBC Insider. But what exactly should viewers be keeping an eye out for?
"We have the original green Night Court couch that's in Abby's chambers. The chairs in the cafeteria are the original chairs. Clarence the armadillo is in Abby's office," Rauch explained.
Along with these clever nods, Abby also pulls out a deck of cards and a pool ball while going through a box of her father Harry's belongings in the pilot episode. The cards are a sentimental reference to Harry's love for magic tricks. Meanwhile, the pool ball is a throwback to the iconic scene in the original show where Dan Fielding confronts Harry in a pool hall, asking him to come back to his job in an emotional moment.
Better yet: Another thoughtful detail is that the number to Dan Fielding's apartment is 504. These digits happen to be the area code to New Orleans, the city where both John Larroquette grew up and Harry Anderson owned a magic shop!
These aren't the only ways the show has paid attention to detail with its set. "Of course, like, the sets, the courtroom, we—our wonderful set designer, Glenda Rovello, got the original plans and blueprints for what those sets were. So they were constructed to scale of the original sets. We did give a fresh coat of paint, just 'cause we felt a government building would have been updated a bit. But that's all there. It's just really special to be walking through those halls. I really credit the incredible set design team who've done such a beautiful job with that," Rauch gushed.
Did you notice these on-set Easter eggs in the new Night Court? Watch Night Court Tuesdays at 8/7c on NBC. Episodes of the show will stream the next day on Peacock.