NBC Insider Exclusive
Create a free profile to get unlimited access to exclusive show news, updates, and more!
Sign Up For Free to View
The Funniest Moments From the Original Night Court
It's nearly impossible to narrow it down to just a few! Check out the new Night Court on NBC.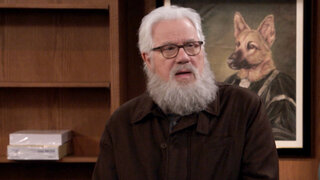 The original Night Court was chock-full of hilarious scenes, all centered around the Manhattan Municipal Court. From prosecutor Dan Fielding's witty one-liners to the unconventional clients who were put on trial, viewers never knew what they were going to get each episode. Below, see some of the best scenes ever from the OG Night Court.
Michael Richards appears on this 1984 episode before his Seinfeld days, playing a man named Eugene Sleighbough who believes that he is invisible to the human eye. Sleighbough gets in trouble with the law for robbing an apartment, believing he could get away with it with his "condition."
"Mr. Sleighbough, when did you first discover you had this talent to become invisible?" Judge Stone asked. 
"Well, it came on sort of gradually. See, at first, I was just boring. But then, I became inconspicuous.  Yeah, you know, like, I'd be waiting in a doctor's office or restaurant or a barber shop; you know, whatever? And finally they'd say, 'Oh, I didn't see you there!' That's when it first began to take hold," Sleighbough replied. 
"And now?" Stone inquired. 
"I'm fully invisible! Yeah, I can be standing on the corner, yelling and waving my arms, cabbies are going right by and never even notice me!" Sleighbough exclaimed.
"In New York City, imagine that," Stone quipped.
A beloved recurring character played by Brent Spiner, the unfortunate farmer that is Bob Wheeler, came back to the night court yet again. And this time, he's brought in for some exploding chickens. 
"It was a nightmare. God awful smell of meringue. Blood-curdling peeping…" Wheeler said wide-eyed. He then went on to describe his time as a worm-farmer.
In this episode, the typically-idealistic Harry becomes disillusioned when a kid gets shot, so he quits his position as Judge. He then decides to spend his days at the local pool hall. When Dan Fielding decides to confront Harry, he calls him a "pathetic, whiny, wheezing jackass twig," frantically trying to convince him to return to the night court. 
When Harry says that it's too hard and he can't do it, the tone shifts to an emotional moment. 
"You were good, Harry. Very good. You were impartial, you were fair. Patient. Compassionate. Understanding. And I admired you," Dan said in sincerity.
This humorous bit shows an ultra-slow-moving man causing an obstruction of traffic for crossing the street. The man takes his sweet time attempting to retrieve a card from his wallet, prompting Christine to pull it out of his pocket to pick up the process. 
"Tortoise nervosa," Harry said while reading the card about the man's medical condition. "Well I've never heard of that one before."
"It's inherited," the man said.
"Your honor, we'd like to call his father as a witness," Christine said before a man from the seats very slowly began to rise as Dan cried out in protest.
In the same comedy-packed episode, a hoard of intense Star Trek fans flood the night court for disturbing peace at a convention. They broke out into a brawl after arguing over which generation of the show was superior and claim innocence on the basis of being victims of a "mind-melt." 
After Harry sentences one of them to a day in county jail, two of them beam themselves out of the court in a hilarious twist.

When Dan returns to his job after a hiatus, he's put at the bottom of the barrel at dog court. In this hilarious scene, he represents a hound who had his bone dug up by another canine. He then prosecutes a barking pup named Sparky for keeping his neighbors up at night. However, both cases are dismissed due to the dog's cuteness, much to Dan's frustration.

Roz gives a young boy named Billy a tour of the court in this episode, who turns out to be highly unpleasant to the rest of the staff. Then, the always confident Roz decides to take charge and put the boy in his place. "You are the meanest, most obnoxious, arrogant little brat I have ever met in my life!" she declared.
"A child needs to hear the word no once in a while," she then addressed the parents.
Watch Night Court Tuesdays at 8/7c on NBC. Episodes of the show will stream the next day on Peacock.