NBC Insider Exclusive
Create a free profile to get unlimited access to exclusive show news, updates, and more!
Sign Up For Free to View
6 Things to Know About John Larroquette
Read all about the Night Court star's interesting life both before and after fame.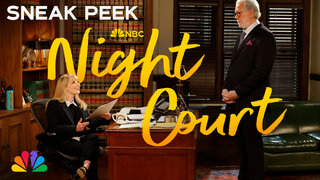 John Larroquette is a national treasure. Known for his booming timbre and tall stature, Larroquette has made a name for himself as an actor, most notably as lawyer Dan Fielding on both the original and new Night Court on NBC. But who exactly is this mega-talented and famous actor? Here are six fun things to know about John Larroquette's fascinating life.
1. John Larroquette's height
6'4". He's a tall guy!
2. He is from New Orleans
Larroquette's roots are from The Big Easy—more specifically, the French Quarter district in New Orleans. Where he was raised is known for being a party and vacation area, according to The Washington Post.
"I thought every kid grew up in that kind of environment. It wasn't until later that I realized the sight of a man walking around with a toilet seat around his neck was not an everyday sight in other cities," Larroquette said of his childhood.  
In a subtle nod to Larroquette on the new Night Court, the number on Dan Fielding's apartment door is 504, the same area code as his city of origin.
3. He had a stint as a DJ
In New Orleans in the '60s, the music-lover Larroquette introduced himself to the entertainment industry with his job as a DJ at a small local radio station.
"I started playing clarinet in third grade, then I moved to the saxophone in the 1960s. But I euphemistically say that I could talk better than I could blow. So, I took that sax out of my mouth and became a DJ and started using my voice as much as I could. I've always loved the analog aspect of audio. I still have some reel-to-reel tape recordings and old microphones," he told Parade.
However, the job didn't come without the occasional hiccup. "A lot of my audience didn't know I was missing. One time I was there alone at night, put on a record and ran across the street for some food. The door slammed behind me and I was locked out for the night," he said to The Washington Post in 1985.
4. He got his acting start in a horror film
Larroquette's baritone voice was quite handy when it came to getting him recognizable roles. And although he's known today mostly for comedy, he has proven he can pull off a range of genres. His first major film role was doing the opening narration of the now-iconic slasher movie Texas Chainsaw Massacre, and the story of how it came to be is super random.
"Living in a little town in Colorado, being a bartender, a fellow came in, we started talking, a fellow named Tobe Hooper, and he said, 'Hey I'm gonna be a movie director!' I went 'Yeah, sure, have another Coors.' And he eventually went to L.A, I eventually went to L.A, somehow he found out I was in L.A, he called and said, 'I made this movie for nothing, but it's a little horror film, I need a favor.' And so I did this opening narration of it," Larroquette said on Late Night With Seth Meyers.
5. He has won five Emmys
Larroquette was nationally recognized for his talent in his legendary role in Night Court. He took home four consecutive Emmys for Outstanding Supporting Actor in a Comedy Series for his character Dan Fielding in the years 1985 through 1988. His fifth Emmy, Outstanding Guest Actor in a Drama Series was awarded in 1998 for his role as antagonist Joey Heric in the show The Practice.
"Being acknowledged by your contemporaries was an incredible honor. I don't say that blithely. It was a remarkable, remarkable feeling," he told Parade about his wins.
6. He had his own show after Night Court
After Night Court ended in 1992, Larroquette went on to be the star of the aptly named The John Larroquette Show, which ran for four seasons from 1993 to 1996. The show told the story of a recovering alcoholic who runs a bus station. It was known for its dark humor, with Vulture describing it as "ahead of its time" and "brilliant." 
Watch Night Court Tuesdays at 8/7c on NBC. Episodes will stream the next day on Peacock.