NBC Insider Exclusive
Create a free profile to get unlimited access to exclusive show news, updates, and more!
Sign Up For Free to View
John Larroquette's Son Is Behind the New Night Court Theme Song and Music
So cool, right? John Larroquette, naturally, raved over his son's talent.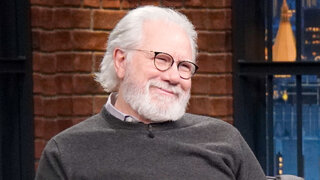 The new Night Court's theme song has a catchy twist–and it's all thanks to someone within the Larroquette family!
"It has a lot of similarities; the set certainly brings me back, the theme song is a little different, and was tweaked by– from within your family," Seth Meyers said to John Larroquette during his January 2023 appearance on Late Night With Seth Meyers.
"Yes. My youngest son was born during the heyday of Night Court in 1987. And Benjamin is an excellent musician, graduate of the Berklee College of Music, and my middle son is also an Artist and a musician, and my daughter. Very artistic family," Larroquette responded.
"But Ben called me one day and said, 'Listen, listen to what I did. I just did it. He did it from memory and just recorded it himself. And so I thought, 'That's a nice new take on that,' so I showed it to Melissa [Rauch] and Dan Rubin, with no intention of going, 'Hey, nepo, nepo, nepo,'" he explained jokingly.  "And they went, 'Oh my God, this is fantastic, it's perfect,' And so he wound up being the composer, and he does all the interstitial music within the [show]…so he's the new composer of the new Night Court!"
In an interview with TV Insider, Larroquette opened up about the energy he needed to bring to his revived character Dan Fielding.
"Let me really be honest, I am 40 years older than when I began that part, so getting in his shoes was difficult because my feet are swollen," he said. "Luckily, I had Melissa to play against, and it fell into place easily."
There's also no denying the father-daughter chemistry between the two on the show. "He's just a master class at this craft. And he's so funny, he's so sharp.  Watching him in front of a live studio audience, he's just absolutely electric in how he brings this character to life," Rauch said of Larroquette in an interview with NBC Insider.
Watch Night Court Tuesdays at 8/7c on NBC. Episodes of the show will stream the next day on Peacock.