NBC Insider Exclusive
Create a free profile to get unlimited access to exclusive show news, updates, and more!
Sign Up For Free to View
What Happened to Joleen Lutz on Night Court?
Read here to find out if the funnywoman is making a return to the new Night Court on NBC.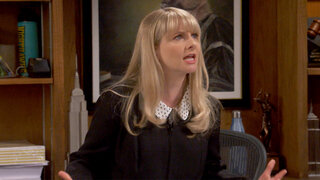 The original Night Court had many hilarious, quirky characters, and the upbeat court stenographer Lisette Hocheiser was no exception. Played by Joleen Lutz, Lisette was always known to make a colorful and offbeat comment. But what exactly happened to Joleen Lutz from Night Court?
Who is Joleen Lutz?
Joleen Lutz is an actress who is from Chicago, Illinois. Although she's mostly known for her role on Night Court, other roles she's had on major television shows include the character Iris on the soap opera Port Charles, and "The Widow Likkin" on Pushing Daises. She was also in five episodes of Desperate Housewives.
As for her personal life, according to an interview with Lancer Radio, she has always been fascinated with helping animals. "I've always been interested in animals. As a kid, I used to do rehab. I mean, we'd find a baby bunny or a bird with a broken wing, and we'd always repair it and put in back into urban wildlife," she said. "And at one point in my life, I think I had way too many animals, and my husband said. 'You have to go somewhere else and get your fix. We can't have all these animals in the house.' And so I went to the zoo and I started volunteering. It gave me an appreciation for the planet that I live on that I never knew I had."
What happened to Joleen Lutz on Night Court?
Lutz played the character Lisette Hocheiser in both Season 8 and 9 of the original Night Court. As the court's stenographer, she was known for her naïve, bubbly personality. We get introduced to her character as a replacement to the previous stenographer, and she is a friend of the court's bailiff Bull Shannon. Despite her somewhat ditzy demeanor, she is depicted as being competent at her job.
In the finale of the original Night Court, the last we see of Lisette is her sitting in the dining room with Bull, Roz, Dan Fielding, and Harry Stone as Christine Sullivan says her goodbyes to the court.
As of right now, neither Lutz nor her character have any plans to return to the new Night Court.
What happened to the rest of the cast on the original Night Court?
Currently, John Larroquette is the only actor from the original Night Court reprising his role. Harry Anderson, who played Judge Harry T Stone, unfortunately passed away in 2018. Markie Post (who played Christine Sullivan) and Charles Robinson (who played Clerk Mac Robinson) also both passed away in 2021.
Meanwhile, Marsha Warfield (Roz) and Richard Moll (Bull) are still in the acting business with various roles in television since Night Court ended. Warfield even gave a shoutout to the new Night Court on her official TikTok page.
What should fans expect from the new Night Court?
There are many clever nods to the original in the 2023 version of Night Court, especially to Harry Stone with set pieces. The number on Dan Fielding's apartment is 504 (the area code to New Orleans, where Larroquette grew up and Anderson lived).
Not only that but Harry's daughter, Abby, pulls out a pool ball while organizing her late father's belongings, which is reminiscent of the iconic pool scene between Harry and Dan in the original series. We also get a glimpse of the beloved Clarence the armadillo in the pilot episode. The original green Night Court couch is also in Abby's chambers, according to an interview with Melissa Rauch for NBC Insider.
Watch Night Court Tuesdays at 8/7c on NBC. Episodes of the show will stream the next day on Peacock.