NBC Insider Exclusive
Create a free profile to get unlimited access to exclusive show news, updates, and more!
Sign Up For Free to View
Here Is Everything to Know About John Larroquette's Career
What can't this man do? Watch the new Night Court on NBC on Tuesdays.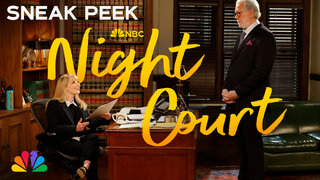 The mega-talented John Larroquette has been in the acting scene since the '70s. Today, he's most recognized for his role as Dan Fielding in both the original and new version of NBC's Night Court. However, how he came to his fame (and what he's done with it) is truly fascinating. Here's everything you need to know about John Larroquette's extensive career.
Hey, Mr. DJ
John Larroquette got his first taste of the entertainment industry with his job as a DJ at a small local radio station in his hometown New Orleans.
"I started playing clarinet in third grade, then I moved to the saxophone in the 1960s. But I euphemistically say that I could talk better than I could blow. So, I took that sax out of my mouth and became a DJ and started using my voice as much as I could. I've always loved the analog aspect of audio. I still have some reel-to-reel tape recordings and old microphones," he told Parade.
His horror-film beginnings
Larroquette's first major film role was voicing the open narration of Texas Chainsaw Massacre. Although the 1974 film is now considered a staple in the horror genre, when it was in production, it was considered a low budget film by an unknown director. Larroquette ended up doing the voice work for free as a favor to a friend.
"Living in a little town in Colorado, being a bartender, a fellow came in, we started talking, a fellow named Tobe Hooper, and he said, 'Hey I'm gonna be a movie director!' I went 'Yeah, sure, have another Coors.' And he eventually went to L.A., I eventually went to L.A. Somehow he found out I was in L.A., he called and said, 'I made this movie for nothing, but it's a little horror film, I need a favor.' And so I did this opening narration of it," Larroquette said on Late Night With Seth Meyers about how he landed that gig. 
We all know Larroquette today as the lawyer Dan Fielding in the hit NBC sitcom Night Court. He was critically praised for his role on the show, taking home four consecutive Emmys for Outstanding Supporting Actor in a Comedy Series in the years 1985 to1988.
"Being acknowledged by your contemporaries was an incredible honor. I don't say that blithely. It was a remarkable, remarkable feeling," he told Parade.
The John Larroquette Show
Larroquette then went on to star in The John Larroquette Show, which ran from 1993-1996. It followed a fictional man who was a recovering alcoholic running a bus station.
Vulture described the show's dark humor as "Ahead of its time" and "brilliant." "It had a point of view and a unique perspective on the world," the outlet said in 2017.
Larroquette himself agreed. "The first season of that show, I thought was–I don't say this modestly, some of the best sitcom television ever made," he said on Late Night With Seth Meyers.
His other major roles 
Larroquette has showed off his versatile acting chops in other popular television shows. He won another Emmy in 1998 for Outstanding Guest Actor in a Drama Series for his role as antagonist Joey Heric in The Practice. He is also known for playing Carl Sack in its spinoff show Boston Legal.
John Larroquette on Broadway
In 2010, he performed on Broadway in the musical How To Succeed in Business Without Really Trying alongside Daniel Radcliffe. He played the role of J.B. Biggley, and even though it was his first time singing and dancing onstage, he ended up winning a Tony Award for his work.
"I loved the lifestyle of being a stage actor in New York. I loved working with Daniel Radcliffe, and we became fast friends. It got to a point where I couldn't wait to get to the theater and try it again that night. If you're given the opportunity to do something that may be a stretch, I think it's important to try and see if you can pull it off," Larroquette told Parade.
His return to Night Court
Larroquette then decided to reprise his iconic Night Court role in the much-anticipated 2023 version of the show. He revealed that Melissa Rauch, who plays protagonist Abby Stone, was the one who convinced him to come onboard for the project.
"Because of the way it was presented to me, as an actor, I became aware of, 'Oh wait, hold on a second, how often does one get the chance to look at a character that you played 30 years ago and see him now 30 years in the future? What's happened to him?' As an actor, it seemed like an interesting problem to have a little bit," he said on Late Night With Seth Meyers.
Watch Night Court Tuesdays at 8/7c on NBC. Episodes of the show will stream the next day on Peacock.