NBC Insider Exclusive
Create a free profile to get unlimited access to exclusive show news, updates, and more!
Sign Up For Free to View
Why John Larroquette Approves This Major Change to His Night Court Character
"Nobody wants to see that, and I certainly don't want to play that," Larroquette said.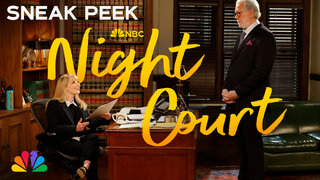 While Dan Fielding's character in the OG Night Court was known as a major womanizer, his revived character in the 2023 version has clearly turned over a new leaf. In between shows, Fielding settled down with his wife, Sarah, who has since passed away. In a recent interview with Deadline, John Larroquette explained why this choice of character development was made in the new Night Court.
"The man is 75 years old, nobody wants to see that and I certainly don't want to play that," he explained to the outlet about Dan ditching his womanizing ways. "So, whatever we'll do in the future about that will always be glancing blows to that sort of homage. We've got some young people in this cast who all the stories about the amorous nature of being young and falling in love and having relationships that work and don't work should be left to the young people, not to the old guy."
"She brought him life, one that he didn't think was possible for him to have," Larroquette continued about his relationship with his character's wife. "So, once that ended, in my mind, that put the end to all of that looking because he had it. He found somebody who loved him, who he also loved. They had a real relationship and a real life together. And once that ended, that's fine. I had that and that's all I need."
Larroquette gave further detail of the process of coming back to his Dan Fielding role in an interview with TV Insider.
"Let me really be honest, I am 40 years older than when I began that part, so getting in his shoes was difficult because my feet are swollen. Luckily, I had Melissa to play against, and it fell into place easily," he said.
"He got out of the law system and found somebody he fell in love with and who fell in love with him," he said. "He was content and matured. And then his wife passed away, and he retreated back into this dark cave. Dan is pulled back into the light by Harry's daughter."
Watch Night Court Tuesdays at 8/7c on NBC. Episodes will stream the next day on Peacock.