NBC Insider Exclusive
Create a free profile to get unlimited access to exclusive show news, updates, and more!
Sign Up For Free to View
Watch Timothee Chalamet's SNL Sketches and Monologue from November 11
Chalamet resurrected two characters from his 2020 SNL episode (welcome back, SmokeCheddaThaAssGetta) while the cold open poked fun at the GOP debate. 
Actor Timothée Chalamet hosted Saturday Night Live for his second time on November 11, alongside musical guest boygenius. The Wonka star brought back two memorable characters from his 2020 episode: The proud owner of a Tiny Horse (now living in a dystopian world in which Tiny Horse is now Giant Horse), and rapper SmokeCheddaThaAssGetta from "Rap Roundtable."
The sketch wasn't the only opportunity for Chalamet to flex his half-joking, half-serious rap skills. The monologue found cast member Marcello Hernández jumping onstage to interrupt Chalamet's Willy Wonka-esque ballad of wonderment and post-SAG strike "shameless self promotion." Instead of the "old timey stuff," Hernández persuades Chalamet to rap about their shared quality: Being a "baby-faced dude."
"I got a face like a young 'un, but the body of a dude, so hide your wife, hide your grandma too," Chalamet rapped. 
The episode also also found musical guests boygenius making a sketch cameo, and—in the last three minutes of the show—saw the return of Alec Baldwin, who's hosted SNL the most with 17 episodes total. 
RELATED: Watch boygenius rock "Not Strong Enough" and "Satanist" on SNL
Miss the episode, or simply need to rewatch all the crazy impressions in "The Woman in Me: Auditions" sketch immediately? Watch Timothée Chalamet's SNL sketches and monologue rap below. 
Watch Timothée Chalamet's SNL sketches from November 11, 2023
Republican Debate Cold Open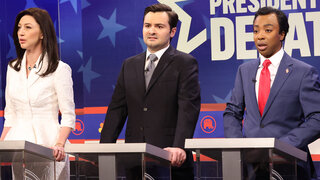 The free-for-all that was the third 2023 Republican primary debate would be a strong enough premise for any SNL cold open. But the appearance of James Austin Johnson's former president Donald Trump, speaking in the foreground of a frozen-still cast as he did in Season 48's "Trump Easter Cold Open," that took it to the next level. Johnson's Trump narrated the choices of cast to play certain GOP hopefuls, such as Please Don't Destroy member John Higgins. 
"And look who they got playing Meatball Ron—one of the Destroy boys," he said. "Ron's watching at home like, 'who the hell is that?" (Kudos to the cast for managing to stay still and straight-faced for so long). 
Monologue: Timothée Chalamet and Marcello Hernández's Baby-Faced Dude Rap
"Shout out Justin Bieber. Shout out Bruno Mars lil a--." Watch above. 
Museum of Hip-Hop Panel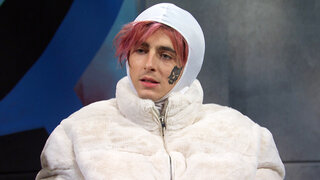 No Pete Davidson this time in the follow-up to Season 47's "Rap Roundtable" sketch. Chalamet has somehow gotten even better at portraying fictional mumble rap superstar SmokeCheddaThaAssGetta since 2020; he truly feels like someone you've seen on TikTok. 
The Woman in Me: Auditions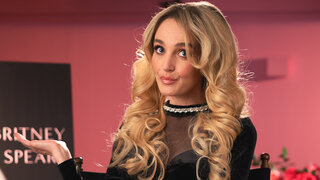 The concept of this sketch, in which celebrities audition to narrate the audiobook for Britney Spears' The Woman in Me, opened the door for an insane cavalcade of impressions, though Chloe Fineman was a major standout as Spears, Chalamet, and more. 
RELATED: Watch Chloe Fineman Conquer 12 Celeb Impressions in 60 Seconds
Giant Horse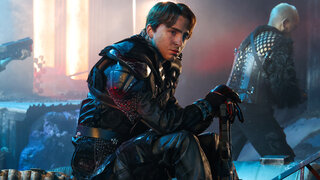 In a dystopian, war-torn world, one hero (Chalamet) must confront the evil Giant Horse in this surprise "Tiny Horse" sequel. 
Gym Call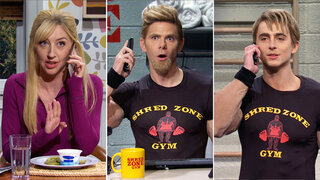 Silly questions and shredded prosthetic arms abound in this sketch about a woman (Heidi Gardner) who is just trying to find the bag she left at the gym. 
Please Don't Destroy: Jumper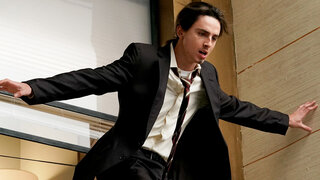 In the latest Please Don't Destroy video, Chalamet plays a businessman who wants to jump out a window, and the boys have to support his (horrible) music in order to save his life.
Little Orphan Cassidy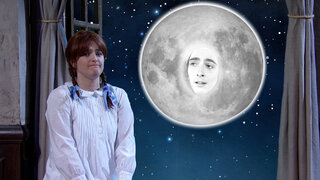 Whatever you're expecting to come out of Little Orphan Cassidy's mouth during her serenade to the moon (Chalamet), new cast member Chloe Troast defies expectations in this odd yet hysterical sketch about an urchin who isn't what she seems. 
Troye Sivan Sleep Demon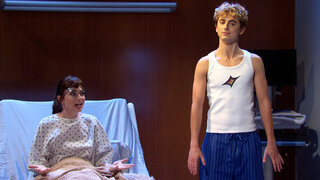 Chalamet and the members of boygenius all play undie-flashing sleep demon versions of Australian "One of Your Girls" singer and actor Troye Sivan.
Calm Sleep Story