NBC Insider Exclusive
Create a free profile to get unlimited access to exclusive show news, updates, and more!
Sign Up For Free to View
Marcello Hernandez's "Protective Mom" Inspired Pedro Pascal's SNL Character
The SNL Season 49 cast member publicly thanked his (stunning!) mother in English and Spanish, and revealed her influence on Pascal's Emmy-nominated work.
Saturday Night Live Season 49 cast member Marcello Hernández was a guest on the Tuesday episode of Late Night with Seth Meyers, stopping by to chat ahead of SNL's 2023 premiere on October 14. Among the topics Hernández discussed with fellow SNL alum Seth Meyers: A wildly popular sketch from Pedro Pascal's Emmy-nominated hosting stint, in which Hernández played a devoted son. 
As it turns out, Pascal took inspiration from Hernández's own mother when he portrayed the performer's fictional mom in a sketch.
Hernández absolutely romanced Meyers in his October 10 Late Night intro, walking out in a white tuxedo to hand Meyers a corsage and a bottle of wine. When Meyers brought up that it was Hernández's first-ever appearance on a talk show, he joked, "yes, can you tell?"
Congratulating the featured player on an "exceptional" first season, Meyers asked Hernández if he was having as good a time as he seemed. 
"I absolutely am—I used to sell tickets on the streets of New York, so there's nothing to not be happy about," Hernández said. "There's no reason for me not to be having the time of my life."
Hernández went on to win the hearts of moms everywhere by introducing his own gorgeous mother in the audience, publicly expressing his gratitude in both English and Spanish (Hernández is of Cuban and Dominican descent).
Meyers said that was funny, because when he met her and said she must be so proud of her son, her response was, "eh" (he was kidding, of course).
Hernández's Mom Influenced Pedro Pascal's Overprotective Mother on SNL
Hernández revealed that the "Protective Mom" sketch on his February 4 episode—which earned Pascal an Outstanding Guest Actor in a Comedy Series nomination—was partly inspired by Hernandez's own mom.
RELATED: Go (Kart) Behind the Scenes of Pedro Pascal's Amazing Mario Kart Sketch on SNL
Explaining that Pascal wanted to do something in Spanish, and Hernández "was the only person at the show who could write in Spanish," he says it gave him a great opportunity. He also clarified that she was NOT a physical inspiration for Pascal's mustachioed look.
"Pedro, my second mom: Thank you, I love you," Hernández joked.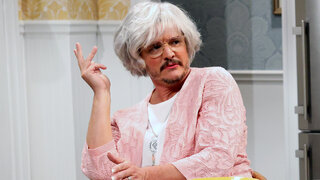 Watch the interview, in which he also looked back on making the "Spanish Class" sketch with April 17 Host Ana de Armas, above.