NBC Insider Exclusive
Create a free profile to get unlimited access to exclusive show news, updates, and more!
Sign Up For Free to View
Watch Christopher Walken's Delightfully Strange Return to SNL for the First Time Since 2008
SNL Five-Timer Christopher Walken appeared in the cold open and introduced musical guest Foo Fighters, recreating a classic Saturday Night Live moment.
As a five-time Host, Christopher Walken brought many hilariously odd characters to life on Saturday Night Live over the years, from the music producer who demanded "more cowbell" out of Blue Oyster Cult to deeply-awkward ladies man The Continental (no, not that The Continental). Yet Walken hadn't appeared on SNL since he last hosted in 2008—until the Nate Bargatze-hosted episode of Season 49.
Walken surprised the audience during the October 28  cold open, which starred cast member Mikey Day as President Joe Biden. Biden decorated the Oval Office for Halloween, greeting newly-elected House Speaker Mike Johnson (Michael Longfellow) and his somewhat mysterious son (Devon Walker). 
RELATED: Every SNL Host for 2023-2024
Then, a bizarre Halloween character made his entrance to tell Biden about the "true meaning" of spooky season. Move over David S. Pumpkins.
"I'm the spirit of Halloween," Walken's orange-and-black caped character told Biden. "The Ghost of All Hallows Past. In South America, they call me 'Papa Pumpkin'."
Instead of the chimney, Papa Pumpkin comes into people's homes through "the toilet," Walken informed Day's Biden, before sharing some wisdom. 
"Sure, there's spooky goblins, creepy crawlers, hocus pocus, but it's about camaraderie, really," Walken said, making the word "camaraderie" a many-syllabled event. "Meet the neighbors you don't wanna see again on any other day. After all, you can't spell 'Halloween' without, 'hello'!"
He then launched into the classic Halloween poem, "Trick or treat, smell my feet," before getting to say, "Live, from New York, it's Saturday night!
Christopher Walken introduced Foo Fighters (again)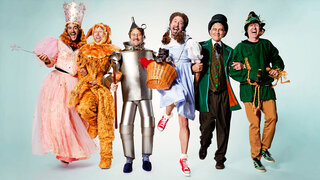 Walken resurfaced later in the show to introduce musical guest Foo Fighters' performance of "Rescued," and his introduction held a secret meaning for SNL fans. 
As band leader Dave Grohl previously told Radio X Host Chris Moyles, Foo Fighters were also the musical guest during Walken's 2003 SNL episode.
"He asked us if the accent was on 'Foo' or 'Fighters,'" Grohl recounted (watch the clip for Grohl's very decent Christopher Walken impression). Knowing about Walken's classically unique delivery, they decided to tell him the accent was on "Fighters" (it isn't). The rest is history, referenced anew on the October 29 episode.