NBC Insider Exclusive
Create a free profile to get unlimited access to exclusive show news, updates, and more!
Sign Up For Free to View
It's Officially David S. Pumpkins Season: Revisit Tom Hanks' Instant-Classic SNL Character
Watch all four of Tom Hanks' appearances as the beloved SNL Halloween mascot—and don't miss the character's appearance at Universal Studios' Halloween Horror Nights.
It happens every year: The leaves change color and flutter to the ground, bags of candy flood the drugstore aisles, and Saturday Night Live fans start feeling the unmistakable urge to see David S. Pumpkins again.
It's never too early to celebrate the season by revisiting SNL's most iconic Halloween-themed sketch and its follow-ups. Watch the David S. Pumpkins sketches starring Five-Timers Club member Tom Hanks—plus the animated David S. Pumpkin special—and learn a bit about what inspired the strangely hilarious concept below.
RELATED: 13 SNL Halloween Sketches That Will Have You Howling With Laughter
Not enough David S. Pumpkins for you? Still have questions for the besuited holiday mascot? Head to to Universal Studios' Halloween Horror Nights in either Orlando or Hollywood in 2023, and be sure to stop by Peacock's Halloween Horror Bar. There's a good chance you'll spot the character scaring up some fun!
How many times has Tom Hanks been David S. Pumpkins?
Pumpkins' rare-but-precious appearances on SNL consist of the debut sketch in 2016, a second sketch in 2022, one pretaped sketch cameo, and the 2017 animated special.
Who plays the skeletons?
SNL Season 48 cast member Mikey Day and former cast member Bobby Moynihan play Pumpkins' dancing skeleton sidekicks. Day and Moynihan also co-wrote the sketch with writer Streeter Seidell. 
The first David S. Pumpkins sketch
David S. Pumpkins made his debut in the now-famous "Haunted Elevator" sketch from Season 42, on October 22, 2016. In it, a couple (Beck Bennett and Kate McKinnon) encounter terrifying horror characters in an amusement park ride...and, three less-than-terrifying characters.
As Moynihan told Vulture in 2017, the dancing aspect of the sketch was inspired by the "Little Superstar" viral video: It's a clip from a movie featuring actor Shankar "King Kong" Ezhumalai, who breakdances to music that starts and stops. That music, a Madonna remix called "Holiday Rap," is what the David S. Pumpkins' song is based on.
RELATED: SNL's Most Memorable Cold Opens
Eventually settling on a parody of Disney World's Tower of Terror attraction, the final concept took a few more days to refine (Pumpkins originally spoke way more and actually answered questions, Day, Moynihan and Seidell told Vulture). The rest is history, as the odd sketch became an immediate hit with people who reveled in its absurdity.
"My personal theory is that everyone in the country at that point was so divided. The election was so intense," Seidell reflected to Vulture. "David Pumpkins, this dumb silly thing, was the last thing that everyone could kind of agree on, that they could talk to each other about without it ruining Thanksgiving."
David S. Pimpkins
The character made a blink-and-you'll-miss it cameo in the "Rap Song" sketch from The Rock's May 20, 2017 episode. Hanks returned as the character, this time using the rap alias "David S. Pimpkins" and exchanging finger guns for actual guns.
The David S. Pumpkins Halloween Special
The enigmatic character got its own animated special, released on October 27, 2017. Watch it above, via SNL's YouTube channel, to get into the spooky-season spirit.
RELATED: Stefon on SNL: A History of Bill Hader's Hilarious Character
David S. Pumpkins returns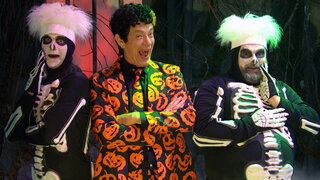 Pumpkins graced the stage for a second live sketch in 2022 during Host Jack Harlow's episode, with Hanks and Moynihan returning for the moment. Season 48 cast members Ego Nwodim and Andrew Dismukes joined Harlow as friends who board the Haunted Elevator ride, when You Know Who shows up. 
Will we ever see Tom Hanks as David S. Pumpkins on Saturday Night Live? We're not sure—but every great horror franchise has to have *at least* five sequels, right?