NBC Insider Exclusive
Create a free profile to get unlimited access to exclusive show news, updates, and more!
Sign Up For Free to View
Tom Hanks Reprised His Iconic David S. Pumpkins SNL Sketch, and It's Just as Hilarious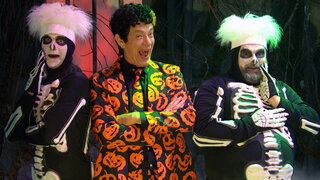 If anyone has perfected the art of callback humor, it's the writers of Saturday Night Live. A beloved Halloween character made a shocking return in the October 29, 2022 episode, featuring Host and musical guest Jack Harlow. That's right: David S. Pumpkins is back! 
David S. Pumpkins, played by the endlessly talented Tom Hanks, was an instant viral sensation when he made his debut in Season 42, Episode 4. The original "Haunted Elevator" sketch followed two haunted elevator attendees (Kate McKinnon and Beck Bennett) who encounter an enigmatic scare they don't quite understand: David S. Pumpkins (Hanks) and his dancing skeleton sidekicks (Bobby Moynihan and Mikey Day). "Any questions?" Pumpkins asks McKinnon and Bennett, but anytime they try to get answers, David S. Pumpkins dances their questions away. Since airing, "Haunted Elevator" has become an iconic SNL sketch that's worth a rewatch.
Flash forward to Season 48's Halloween episode, when Hanks reprised his role as the misunderstood scare. But this time, Harlow accompanied Ego Nwodim and Andrew Dismukes on a Halloween attraction highlighting classic horror film villains. The group brushed paths with Michael Meyers and Annabelle until they're eventually greeted by David S. Pumpkins' smiling face and skeleton sidekicks. 
"I'm David S. Pumpkins, and I'm going to scare you stupid!" Needless to say: the audience went wild. Moynihan and Day also reprised their roles as the dancing skeletons for the spooky occasion (with Moynihan even visiting the "Weekend Update" desk later on as his iconic Drunk Uncle character). 
But the rest of the attraction focused on horror film characters, so the group quickly becomes confused by David S. Pumpkins' presence. "Any questions?" David S. Pumpkins asks them. 
Related: Every Hilarious The Office Halloween Episode You Have to Rewatch
"I've seen, like, every horror movie ever, and none of them had David Pumpkins in it," Dismukes explains. And when David Pumpkins comes back a second time, the group is even more confused. 
"Who are you?!" Dismukes asks.
"I'm David Pumpkins, man!" Hanks exclaims with an unfaltering smile. 
"Right, David Pumpkins from...?"
"Before," Hanks says simply.
"I think he just wants to know what your deal is," Nwodim clarifies. "Like, Annabelle is a possessed doll. David Pumpkins is...?"
"Taking it one day at a time," Hanks hilariously quips. 
"And the skeletons are?"
"Next to him!" Day and Moynihan explain in perfect unison. 
David S. Pumpkins returning was a real treat this Halloween, with Harlow's episode packed with laughs. Can't get enough Saturday Night Live? NBC.com has so many classic moments ready to watch whenever you want. Here's how:
How can I watch classic Saturday Night Live sketches? 
NBC.com is a great place to start. See below: 
Watch Saturday Night Live Saturdays at 11:30/10:30c on NBC and the next day on Peacock.