NBC Insider Exclusive
Create a free profile to get unlimited access to exclusive show news, updates, and more!
Sign Up For Free to View
SNL Host Nate Bargatze's Father Is a Magician Who Opens for Him on Tour
Nate Bargatze is a seasoned standup known for his clean comedy, which you can watch in his streaming specials and on The Be Funny Tour (his dad is his opening act!). 
Nate Bargatze is set to host Saturday Night Live on October 28, with Foo Fighters returning for their ninth show as musical guest. We can only hope the episode will bring several new SNL Halloween sketches; after all, David S. Pumpkins made his triumphant return for Season 48 Host Jack Harlow's October 29, 2022 episode.
With a cast like Season 49's, the episode will be well worth watching—but if you're not a standup comedy fan, you may want to know more about the third SNL Host of 2023.
So, who is Nate Bargatze?
Those who've watched Bargatze's wildly popular standup specials, or seen him live, already know the answer to that question. You also might've caught him on The Tonight Show Starring Jimmy Fallon, where he's made 13 appearances as a stand-up comic and guest. 
The comedian has been performing standup for 20 years as of 2023, and between his current tour, newest special, and upcoming hosting gig, Bargatze's having an incredible year.
RELATED: Pedro Pascal Returned to SNL for Bad Bunny's October 21 Episode
Here's a few things to know about the SNL Host Nate Bargatze, who's been called "The Nicest Man in Stand-Up."
Nate Bargatze is a stand-up comic from Tennessee.
Specifically, Old Hickory, Tennessee, in the Nashville metro area—and Bargatze's roots are no secret, as one of his standup specials is titled The Tennessee Kid.
In April 2023, Bargatze reached a major milestone in terms of hometown success: He broke the attendance record at Tennessee's Bridgestone Arena with 19,365 attendees, The Tennessean reported.
Bargatze is known for clean comedy that's family-friendly.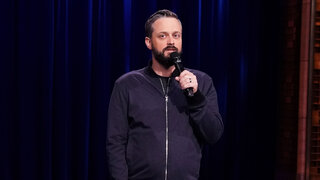 In the vein of comics like Jim Gaffigan and Jerry Seinfeld, Bargatze makes a point of crafting jokes that make people laugh without the use of curses or vulgar humor.
Bargatze has previously explained his approach to joke-writing was born from not wanting to embarrass his parents. "I just can't imagine cursing in front of your parents," Bargatze told Fox News in February 2023. "Still, even now, I'm 43-years-old and I still just couldn't do that. So that's how I write. I think I write my comedy to— a lot of it is to make my parents laugh."
RELATED: Every SNL Host for 2023-2024
He added that it's also due to his religious upbringing. "I come from a Christian family and Southern Christian, so I wasn't allowed to watch anything, which I talk about in the special," he told Fox. "And so growing up and only watching clean comedians, it was just how I was going to be. And it would feel forced if I was not."
How many Nate Bargatze specials are there to stream?
Five: Hello World, The Greatest Average American, The Tennessee Kid, Full Time Magic, and a half-hour episode on Netflix series The Standups. 
Hello World was released on Amazon Prime Video in January 2023 and became the streamer's most-watched comedy special, drawing 2.9 million viewers in the first 28 days.
Nate Bargatze: The Greatest Average American, which earned a 2022 Grammy nomination for Best Comedy Album, and  2019's The Tennessee Kid are both available on Netflix.
You can stream Bargatze's first special, Full Time Magic, on Paramount Plus. 
Nate Bargatze is on tour now—and his magician dad one of his opening acts
Bargatze's material frequently mentions both his wife and his parents—including his father, Stephen Bargatze, who is an actual professional magician. In fact, his dad is one of the opening acts on his 2023 The Be Funny Tour.
"You know, it's every little boy's dream to travel with your dad when you're 44 years old," Bargatze joked to Jimmy Fallon during an October 9 Tonight Show appearance. 
So how do you pronounce Nate Bargatze's name?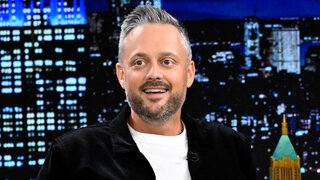 It's Bar-GET-see (not Bar-GOT-see), as Fallon and Bargatze clarify in the interview above. 
Watch Nate Bargatze on Saturday Night Live October 28 at 11:35/10:35 p.m. on NBC and Peacock, and stream full episodes the next day on Peacock.