NBC Insider Exclusive
Create a free profile to get unlimited access to exclusive show news, updates, and more!
Sign Up For Free to View
Pedro Pascal Returned As SNL's Protective Mom and "Helped" Bad Bunny with His Monologue
Pedro Pascal revived his "protective mom" character in the October 21 Saturday Night Live episode, with Bad Bunny in drag playing tia Rosa.
Bad Bunny's first time hosting Saturday Night Live on October 21 was a star-studded event. In addition to the global superstar, who was also musical guest, there were cameos from Lady Gaga (who introduced his "Un Preview" performance), the Rolling Stones' Mick Jagger, and—to the audience's audible delight—actor Pedro Pascal. 
Pascal, whose February 4 episode earned him an Emmy nomination for Guest Actor in a Comedy Series, first turned up during Bad Bunny's monologue, and later revived his "Protective Mom" character, with Bad Bunny portraying fellow family member tia Rosa. 
During the monologue, after joking about the 2023 Grammys moment in which Bad Bunny's Spanish-language performance was dubbed with "SINGING IN NON-ENGLISH" and slipping between English and his native tongue, the singer and rapper said, "I want to bring up my friend to help. Pedro?"
RELATED: Watch Bad Bunny's SNL Sketches and Monologue
Dressed as fashionably as Bad Bunny in an indigo blazer and neon green pants, Pedro Pascal hugged Bad Bunny and asked if he should "translate" Bad Bunny's words (spoiler alert: He did not). 
"Si," Bad Bunny replied. 
"Yes," Pascal proudly told the crowd with a flourish.
Bad Bunny proceeded to speak naturally in rapid Spanish, commenting on his hotel, the traffic in New York, and his new album, expressing his gratitude to the show and "everyone who has listened to my music," as well as shouting out his family, who he said was watching back home in Puerto Rico. 
"Ok," Pascal said, turning to the audience. "He said, 'I'm blessed to be here with my favorite actor, Pedro Pascal."
While he couldn't quite translate, Pascal did try to offer some monologue advice as a past Host—except, the tips didn't quite apply to Benito. Watch the monologue above.
Pedro Pascal and Bad Bunny join forces in "Protective Mom 2" sketch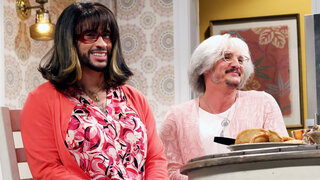 Pascal returned later in the show to revive his protective mom character, who was joined by Bad Bunny in drag as Tia Rosa. When Luis (Marcello Hernández) brings home his latest girlfriend (played by new Season 49 cast member Chloe Troast, she's received with a series of passive-aggressive insults in Spanglish ("muy Old Navy," Bad Bunny's tia sniffs). And do not get them started on Luis's depression.
Cast member Hernández, who co-wrote the sketch for the Pascal-hosted episode, recently told Seth Meyers  that he partly based the character on his own mother. 
RELATED: Every Host of SNL Season 49
"Pedro, my second mom: Thank you, I love you," Hernández joked on Late Night with Seth Meyers. Little did we know we'd soon be gifted with the character's return.