NBC Insider Exclusive
Create a free profile to get unlimited access to exclusive show news, updates, and more!
Sign Up For Free to View
Watch Bad Bunny's SNL Sketches and Monologue from the October 21 Episode
The Puerto Rican singer and rapper's double-duty episode featured Pedro Pascal, Lady Gaga, and the Rolling Stones' Mick Jagger—watch all of Bad Bunny's sketch videos now. 
Bad Bunny pulled double duty on the October 21 episode of Saturday Night Live, serving as both Host and musical guest. In addition to acting in hilarious sketches—with assists from Season 48 Host Pedro Pascal and Rolling Stones frontman Mick Jagger—he performed "UN PREVIEW" and "MONACO" from his fifth studio album, nadie sabe lo que va a pasar mañana (which translates to nobody knows what will happen tomorrow), released October 13. 
It was the Puerto Rican singer and rapper's first time hosting, and his second time performing on the show, as he was previously musical guest on Host Regé-Jean Page's February 20, 2021 episode (you may remember him as the houseplant singing "mentally, mentally, mentally ill" to cast member Ego Nwodim in the "Loco" musical sketch). The musician born Benito Antonio Martínez Ocasio also put in a brief video sketch appearance during an April 2020 SNL at Home episode—so it's safe to say he's been a friend to the show for awhile. 
RELATED: Every Host of Saturday Night Live Season 49
Bad Bunny's monologue poked fun at the 2023 Grammy Awards flap in which his appearance was captioned "[SINGING IN NON-ENGLISH]," changing the caption to "[SPEAKING A SEXIER LANGUAGE]." After introducing himself as Benito and acknowledging some people's doubts about the native Spanish-speaker's ability to host an English language show ("I don't know if they know, but I do whatever I want"), Pascal made his surprise appearance to "help" Bad Bunny with the rest of his intro.
Watch all of Bad Bunny's SNL sketches, the cold open, and monologue featuring Pedro Pascal below.
Watch Bad Bunny's SNL Sketches
Jim Jordan Cold Open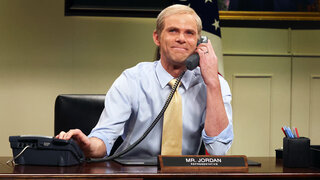 The October 21 cold open dealt with an American political story dominating the headlines: House Republicans' inability to elect a House Speaker. Cast member Mikey Day played Congressman Jim Jordan, who received guests like a baby-toting Rep. George Santos (Bowen Yang), Rep. Lauren Boebert (Chloe Fineman), and James Austin Johnson as former president Donald Trump. 
Rap Battle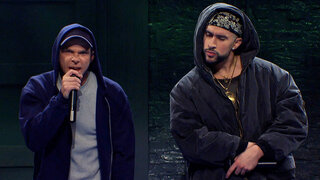 Bad Bunny doesn't rap in this 8 Mile parody, in which Mikey Day plays an Eminem type named Walter White Boy who spills humiliating secrets before his opponent can, despite pleas to "pull it back!"
The Age of Discovery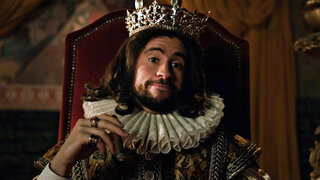 This bilingual pretaped sketch was one of the night's standouts, leveraging Bad Bunny and cast member Marcello Hernández's comedic talents for maximum impact. Bad Bunny and  Hernández play a Spanish king and prince receiving explorers (Mikey Day and SNL alum Fred Armisen) who bring them gifts from the new world that they don't want at all, such as pumpkins (or as the royals call them in Spanish, "herpes melons") and llamas ("bad horses").
Telenovela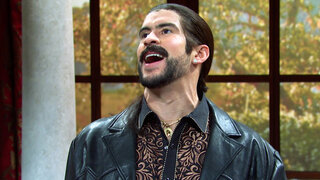 A miscast actress named Latina Jefferson (Punkie Johnson) can't get her one line right in this telenovela parody that let Bad Bunny and Marcello Hernández indulge in some fun stunt work. Then Mick Jagger shows up!
RELATED: Everything to Know About Peacock's Please Don't Destroy Movie
Please Don't Destroy: Bad Bunny Is Shrek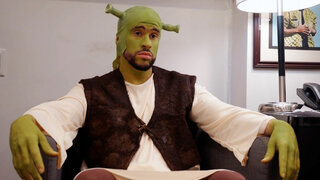 Bad Bunny's casual delivery of, "Yeah, I'm Shrek" in full Shrek cosplay is everything in Please Don't Destroy's latest short film. 
Protective Mom 2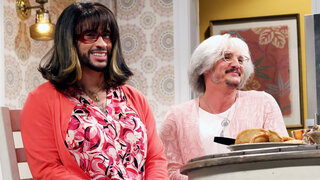 Pedro Pascal returned as the protective mom character from his February 2023 episode, with Bad Bunny joining as Tia Rosa—who doesn't approve of her nephew's latest girlfriend (Chloe Troast) either.
Subway Platform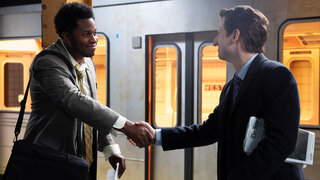 In what feels like a followup to the Waffle House sketch from Jenna Ortega's season 48 episode, two men (James Austin Johnson and Devon Walker) have a tender-hearted exchange on a subway platform. But their drama is overshadowed by the wild scene that unfolds on the train car in the background, as nearly every cast member plays an extremely NYC character (Bad Bunny pops up as an unflappable city employee who bags a rat).
Convent Meeting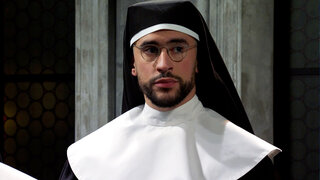 Mick Jagger returns in this spin on Sister Act. 
Enrique's Daughter