NBC Insider Exclusive
Create a free profile to get unlimited access to exclusive show news, updates, and more!
Sign Up For Free to View
Every Weekend Update From SNL Season 49 with Colin Jost and Michael Che
Watch the full "Weekend Update" from SNL's new episode, anchored by Colin Jost and Michael Che.
In (nearly) every season since 1975, Saturday Night Live's "Weekend Update" has offered hilarious, laser-accurate takes on serious current events, elections, and items that could barely be considered news. SNL Season 49 is no different, as co-anchors Colin Jost and Michael Che return to their spots behind the desk to deliver jokes and welcome a cavalcade of guests.
On the December 2 "Weekend Update," Michael Longfellow returned to the desk as an "old-fashioned cigarette," while Jost and Che poked more fun at George Santos. They also weighed in on headlines like Melania Trump's attendance at fellow first lady Rosalynn Carter's funeral.
"Melania said she was deeply saddened to be reminded your partner can live that long," Che joked.
RELATED: Watch Emma Stone's SNL Sketches and Monologue
Watch the new "Weekend Update" from SNL Season 49 below. 
Watch "Weekend Update" from December 2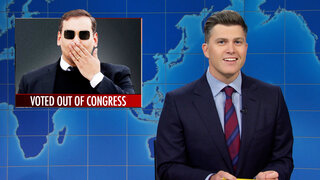 Referring to the sort-of bomber jacket Elon Musk wore to his meeting with Israel PM Benjamin Netanyahu, Jost said he "looked like the ghost of a guy who died in a 1950s drag race."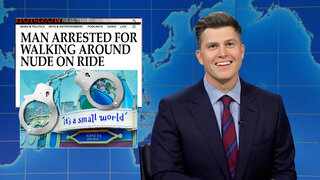 Watch "Weekend Update" from November 18
The November 18 "Weekend Update" was a robust installment that welcomed three guests, including James Austin Johnson and Andrew Dismukes as a band named Remember Lizards, whose self-described "positive arena rock that is Christian-curious" music sounds suspiciously like Imagine Dragons'. It's the latest musical collaboration from the guys who brought you "Lake Beach."
Bowen Yang returned as disgraced Republican congressman George Santos, while Devon Walker provided commentary as suspended Golden State Warriors player Draymond Green.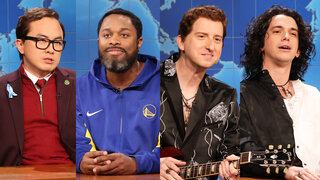 Watch "Weekend Update" from November 11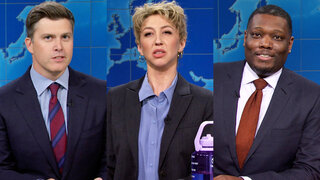 "Weekend Update" from October 28, 2023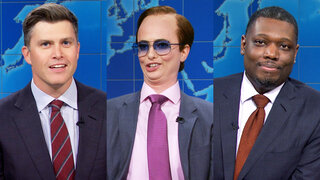 Sarah Sherman's latest larger-than-life character is "Weekend Update" guest J.J. Gordon, a balding lawyer in transition lenses who doesn't have a ton of great career options for his client, Colin Jost. "I haven't been getting many calls about you so...pretty much business as usual."
"Weekend Update" from October 21, 2023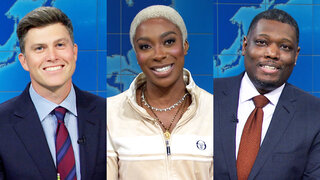 "Sorry if I seem a little tired—I've been on the Today Show 14 times in three days," Ego Nwodim's Jada Pinkett Smith told Che, referring to her exclusive revelations on the morning show regarding her secret separation from husband Will Smith.  
"Weekend Update" from October 14, 2023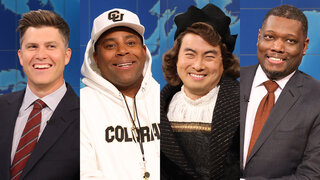 Not missing a beat after a shortened season 48 followed by SNL's summer hiatus, Che took the opportunity to surprise Jost with a quick round of "joke swap" (that's when Che and Jost write jokes for each other, and are subsequently forced to deliver the joke no matter how embarrassing or awkward it may be for them to say).
RELATED: Watch Pete Davidson's Cold Open and Sketches from the SNL Premiere
"WHY?" cried Jost, as Che unexpectedly handed things over. "It's the first show!" The howling audience clearly shared none of Jost's hesitation as Che encouraged him to read the cue card.
"Those are some rough jokes, Colin," Che said when Jost was finished, looking extremely amused.
Bowen Yang also joined as Christopher Columbus, while Kenan Thompson paid a visit as Deion Sanders in a white Colorado hoodie and sunglasses.
Originally published Oct 15, 2023.