NBC Insider Exclusive
Create a free profile to get unlimited access to exclusive show news, updates, and more!
Sign Up For Free to View
Watch SNL's James Austin Johnson Share Two Hilarious Impressions You've Never Seen Before
Saturday Night Live's current impression king finally gets to play two characters he hasn't been able to work into any SNL sketches.
When James Austin Johnson joined Saturday Night Live as a cast member in Season 47, he quickly established himself as a strong performer and an even stronger impressionist. The show's cold opens have often featured Johnson doing his uncanny imitation of former president Donald Trump who, in Johnson's depiction, lets his thoughts flow aimlessly from one thought to the next. It's hilarious and perfect for SNL, but what about the impressions he keeps in his back pocket? The ones the show can't really use?
Johnson finally got a chance to show off two of them when he appeared as a guest on Late Night with Seth Meyers. 
RELATED: SNL's Most-Watched Cold Opens of Season 48
James Austin Johnson's Jeffrey Tambor Meets Bobby Flay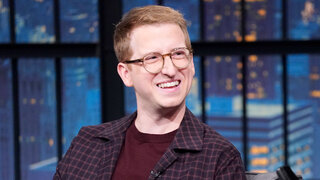 In the clip above, Johnson re-enacts part of the material he used in his SNL audition: Jeffrey Tambor at GameStop trying to figure out his Nintendo Switch.
He then switches to Bobby Flay, the celebrity chef who is always having contestants on his various competition shows engage in wackier and wackier challenges.
RELATED: James Austin Johnson Describes Writing "Lake Beach" for Nate Bargatze's SNL Episode
Close your eyes, and it's basically like Tambor and Flay are there.
James Austin Johnson's son isn't a fan of his impressions
You'd think having a dad who can bust out perfect impressions of all your favorite cartoon characters, but Johnson's son Homer doesn't love it. "Homer has not quite gotten used the the idea of Dad being 'a voices guy'" the father of one told Meyers.
Watch Chloe Fineman Conquer 12 Celeb Impressions in 60 Seconds
Maybe it's because he's too good when operating at full capacity. A natural performer, Johnson has to tone himself down for, say, bedtime. "I can't be busting out a perfect awesome fully realized character at nighttime -- he's gonna zoom back into wakefulness! I'm trying to get this guy DOWN."
Adorably, Johnson said he does serenade Homer with Broadway tunes in the bath, before casually bursting into a song from Les Misérables. "Who among us didn't have our dads sing that?" jokes Meyers.